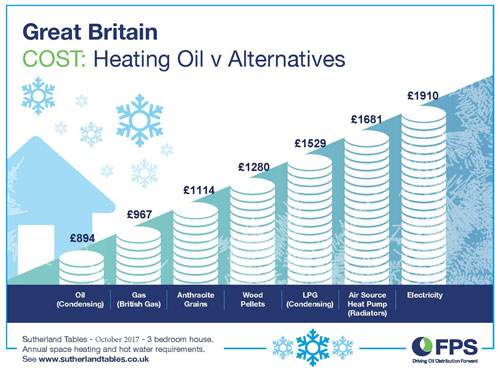 The Federation of Petroleum Suppliers (FPS) is urging the 1.5 million UK homeowners and businesses that use oil for heating to get themselves prepared for the winter and not be caught out by bad weather.
FPS spokesperson, Dawn Shakespeare, said: "Heating oil is currently the cheapest form of energy and has been since January 2015 so while getting ready for what the winter months have in store it is important to know when is the best time to buy and the best way to purchase oil to make the best savings.
"By planning ahead, you can ensure you are ready for all that this winter has in store, including managing the additional heating costs and making sure you don't run out of heating oil for your homes when you'll need it the most. The increased demand during the winter, and especially in the run-up to Christmas regardless of the weather, usually means extra demand on suppliers and delivery delays so we are urging people to make sure they don't get caught out by leaving it too late.
"Our members understand that times are hard and people may want to wait before ordering fuel but a lot of oil distributors run payment schemes to encourage customers to have bigger, less frequent deliveries but then spread the payments out over the whole year, helping both financially and ensuring homeowners don't run out of fuel when winter hits.
"The majority of homes on heating oil are often in rural locations, when the weather turns cold it can be particularly problematic if plans are not in place to cope with the winter months. The good news is that there are many things you can do now to ensure you're prepared for when the weather stops being mild, including checking your oil tanks and heating systems today.
"Boilers should be serviced at least once a year to ensure they are running efficiently and are able to cope with the upcoming winter. If you have an older boiler, you may want to upgrade to a modern condensing oil boiler as this will reduce fuel consumption by around 20%. Therefore, cutting fuel costs significantly – heating oil is the cheapest form of energy right now so it makes sense to consider switching to it.
Following the release of the October 2017 energy comparison report produced by Independent provider of comparative home heating costs, Sutherland Tables, the latest figures show that heating a typical three-bedroom home on oil, using a condensing boiler is now just £894 per annum. Even with a conventional boiler, that's nearly half the cost of the nearest off grid alternative.
If you use LPG the average cost is £1529 per annum, Electricity is £1910 per annum and traditional gas heating £967 per annum. This means that an oil condensing boiler is also substantially cheaper to run than any renewable heating option with Wood pellets costing £1280 per annum and air source heat pump radiators £1681 per annum."
The FPS also recommends checking your tank, pipes and other equipment for leaks, damage and interference once a week. Any problems should be fixed as soon as possible by an Oil Firing Technical Association (OFTEC) technician.