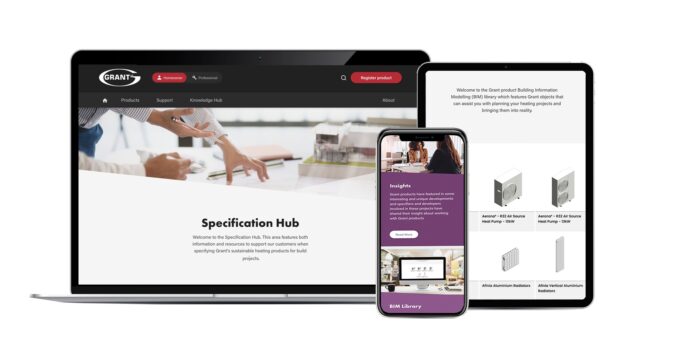 A new area dedicated to specifiers, developers and architects is now live on Grant UK's website.
The Specification Hub features a selection of zones with content specifically tailored for those specifying renewable heating systems.
The Specification Hub is split into four zones. The 'Insights' zone features interviews with developers and builders who have worked with Grant's renewables products, incorporating them into their new build and renovation projects. The 'Projects' zone collates some of the different installation scenarios where Grant's air source heat pumps, cylinders, solar thermal systems and other products have been installed.
The third zone is the BIM Library where the Aerona³ air source heat pump models and Afinia aluminium radiators are available to download as BIM objects which can be incorporated into planning software for new projects. The 'Support' zone is the final area of the Specification Hub where useful contact and service information is provided.
"There is a lot of information in the renewables heating market so our Specification Hub aims to present the key resources that developers, specifiers and architects need in an accessible, user-friendly way," said Kevin Ellis, Grant UK's renewables sales manager. "We have listened to our customers and brought together the main resources they want when it comes to specifying low carbon heating systems for their builds, whether that be downloading our products' BIM objects or learning about Grant products by reading how they have worked well in existing developments and installations."