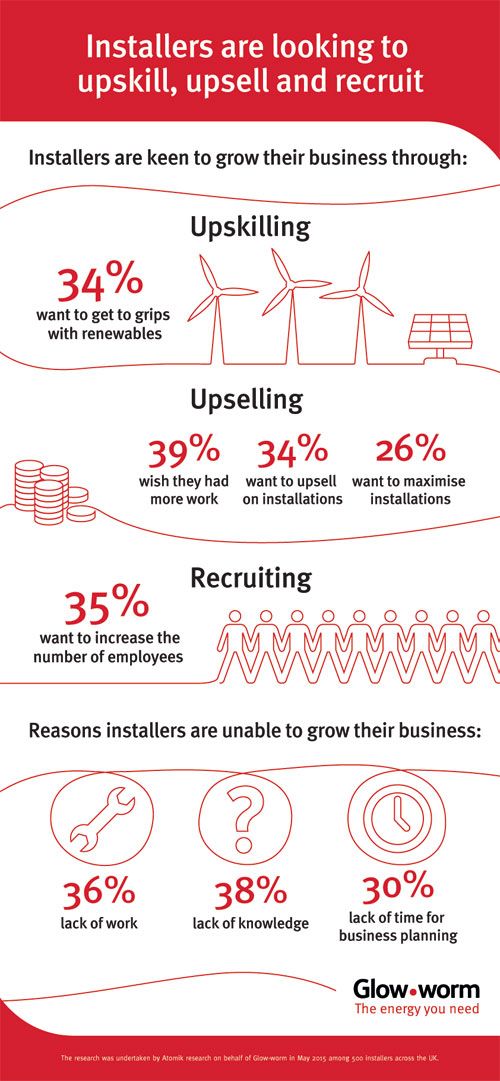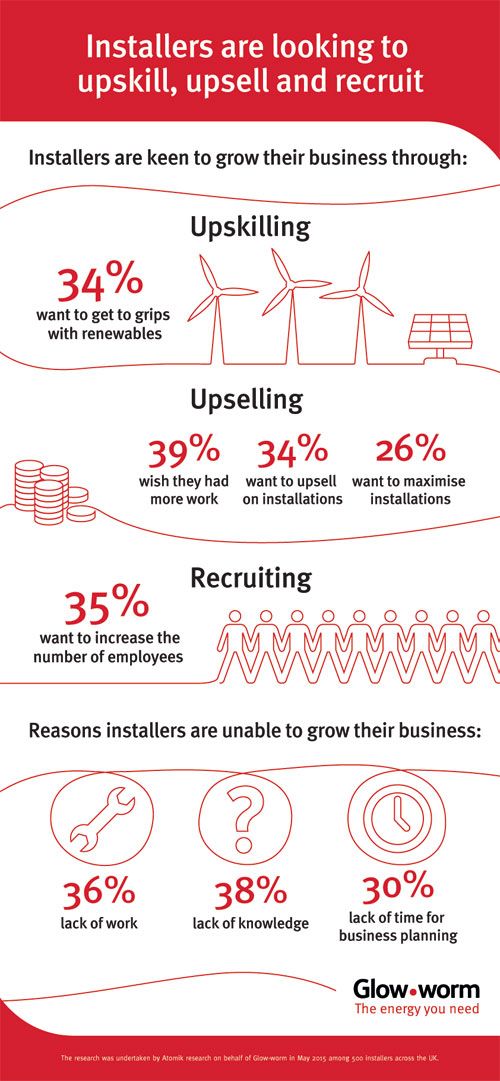 It seems that installers are keen to make hay while the sun shines as latest insight from Glow-worm has revealed they're focused on upselling, upskilling and recruiting.
Keen to grow their business, 39% wished they had more work, a third want to get to grips with renewables, a further third want to make more effort to upsell on installations, and a quarter want to be better at following up on previous installations.
As part of business expansion plans, overall 35% of installers want to increase the number of people they employ. This sentiment was strongest felt by 25-34 year olds who were more concerned with growing their workforce than older respondents, with 37% of 25-34 year olds saying they would be looking to employ an apprentice (vs just eight per cent for 35-44 year olds) and 56% saying they would increase the number of employees they have (26% for 35-44 year olds.)
Lack of work, knowledge, and time to think about business planning were the most common reasons given for being unable to grow the business. These are consistently the top three reasons, other than at the lower and upper ranges of company revenue, where lack of funds for expansion takes a higher-profile position.
Respondents were divided on their views on their work/life balance, with 39% saying they wished they had more work, and 33% saying they wish they had more free time. Only one in five were happy with how their time is divided, with 25-34 year olds around twice as likely to be happy as 35-44 year olds (29% vs 15%), and 35-44 year olds tending to want more free time (39% vs 22%).
Neil Bunning, commercial director for Glow-worm, said: "This report has helped us to gain a clear picture of the landscape for installers and highlighted just how ambitious installers are, albeit many feel they are unable to follow through with their aspirations.
"We have been listening to installers and want to help them address these issues. This is why we have refined our product range but at the same time enhanced the range of services and support tools available to installers to help them grow their business in whatever form that takes. We have already started to boost the support we offer with our award winning, free Club Energy loyalty programme which features valuable business support tools and our Plumbing Toolbox App, which provides installers with everything they need to do the job in hand using the technology already in their pocket."