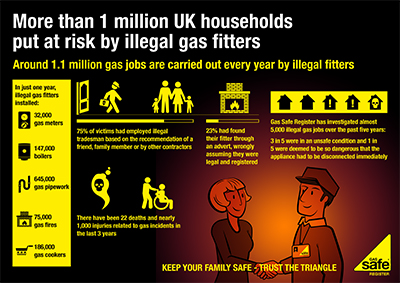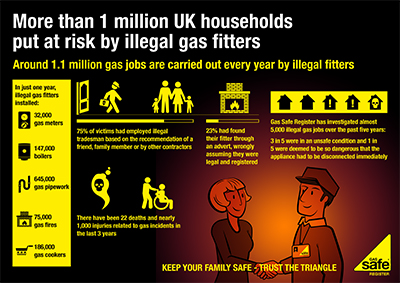 Gas Safe Register has launched a campaign to highlight the amount of illegal gas work that is done across the UK and the danger this poses to householders.
Gas Safe Register has a team which actively searches out rogue fitters and has investigated almost 5,000 illegal gas jobs in recent years, finding that three in five were in an unsafe condition. A worrying one in five were deemed to be so dangerous that the appliance had to be disconnected immediately.
There were 55 prosecution cases obtained by the Health and Safety Executive in 2015 following poor and in some cases deadly gas work. The prosecutions resulted in a total of 33 months in jail, 2,170 hours of unpaid work or community service orders and £748,283 in fines.
Rob Denman, Gas Safe Register, regional investigations officer, said: "It never ceases to amaze me the problems we are called out to investigate, where householders have unsuspectingly hired an illegal gas fitter to carry out work and have later encountered faults. These problems can range from boilers not being screwed to the wall correctly to flues not connected to the appliances correctly allowing carbon monoxide to escape into the room, where families are put at danger."
Research carried out by Gas Safe Register identified that just under half of respondents are too embarrassed to ask to see an ID card, leading them to fall victim to illegal gas fitters.
Gas Safe Register is reminding registered engineers of the importance of ensuring the public know they should always be checking the identification of any gas engineer hired to complete work in their home.