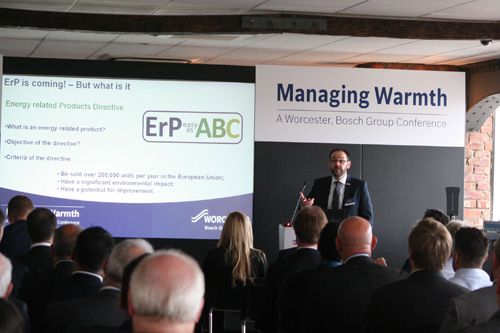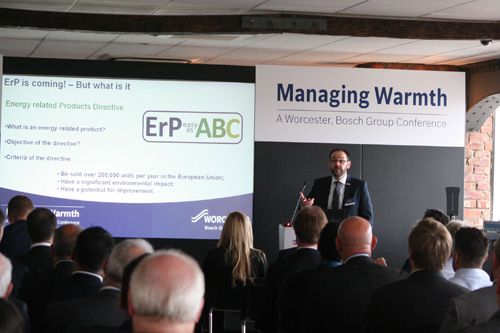 Worcester, Bosch Group recently held its second annual conference for influencers in the social housing sector, aimed at "Managing Warmth" within UK housing stock.
Following the success of last year's conference, the event saw industry leaders advise on effective heating and hot water strategies for single and multiple occupancy dwellings. Over ten per cent of the UK's total social housing stock was represented on the day, with Worcester welcoming over 60 representatives from Local Authorities and Housing Associations, as well as professionals from Consultancy, Contractor and Facility Management sectors.
The day saw talks from a number of key speakers, including an address by Andrea Leadsom MP, minister of state at Department of Energy and Climate Change (DECC). With the conference falling during National Gas Safety week, a presentation was also given by the Gas Safe Register on the installation and maintenance of gas appliances within social housing.
As host, Worcester delivered an overview of the industry, as well as providing its assessment of the future of domestic and commercial boilers, and heating controls. In addition, an exhibition gave delegates the opportunity to speak to Worcester employees from areas such as Training, Bosch Commercial and Industrial, product management and Service Support. Added to this was a presence from Bosch's Power Tools and White Goods factions, which offered a cohesive and comprehensive view of the manufacturer's support for the social housing market.
Paul Soper, national specification director at Worcester, Bosch Group, said: "The efficiencies throughout the Social Housing supply chain will continue to define our products and services for the future. We continue as a manufacturer to invite dialogue with Housing providers to ensure, as an Industry, we keep housing stock at a Decent Homes Standards.
"The event was a great success and gave us the perfect opportunity to once again remind key figures from the social housing sector of the support we can offer as a manufacturer, across both the domestic and commercial sectors."