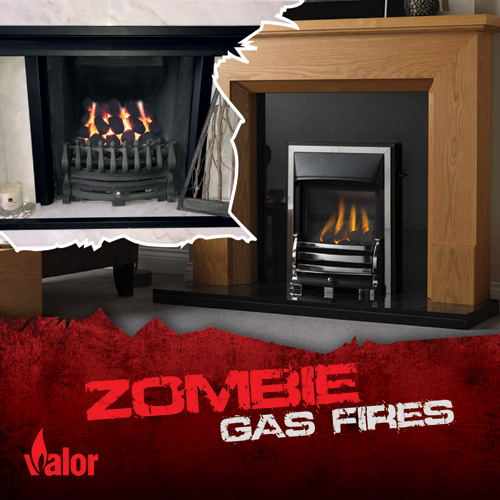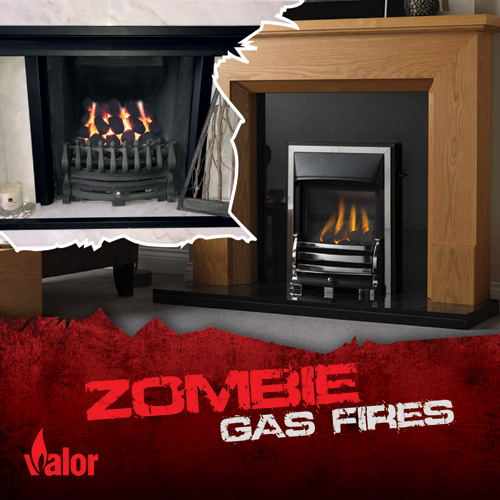 There's a new breed of 'zombie' making itself known in the heating industry, and Valor is looking for help in hunting them down.
Hot on the heels of 'zombie' boilers, Valor is on the hunt for 'zombie' gas fires; appliances using outdated technology that refuse to die.
It is all part of a campaign to highlight the missed opportunities when homeowners and private landlords stick with outdated gas fires. Valor calculates that upgrading from a decorative gas fire to a modern Valor gas fire could save homeowners more than £150 per year in running costs, while delivering greater comfort, improved control and a safer appliance too.
If you've worked on a Valor or Robinson Willey gas fire that is 20-years-old or more, let Valor know and you could win prizes for you and your customer.
One nominating installer chosen at random will claim a zombie apocalypse experience for them and four friends worth £500 – while their customer will be presented with a new gas fire from the Valor collection, worth up to £500 RRP.
Valor estimates that there could be four million gas fires more than 20-years-old still in operation in UK homes. That means four million households could be missing out on benefits including greater control over the flame output, a choice of controls, enhanced testing and safety, installation flexibility and a far wider choice of designs.
Tracey Falshaw, marketing manager, said: "There is a real opportunity for gas registered installers to drive business through the upgrade of ageing decorative gas fires from the 1980s and 1990s.
"We know from the experience of the boiler industry that a large number of homeowners and private landlords are willing to stick with outdated gas appliances simply because they are still working – but that's not good enough.
"Even if we put to one side all of the style, choice, safety, control and performance benefits of modern gas fires, your customers are paying more than they need to run their appliance. By telling them that, you could be creating profitable installation opportunities."
To enter the competition, simply email your name and telephone number with a photograph and details of the Valor or Robinson Willey gas fire you have worked on (including model number and date of installation). Put "I found a zombie!" in your email's subject line and send the details to: zombies@valor.co.uk.
Entries close on June 16 and one entrant will be chosen at random.
For full terms and conditions, visit: www.valor.co.uk.