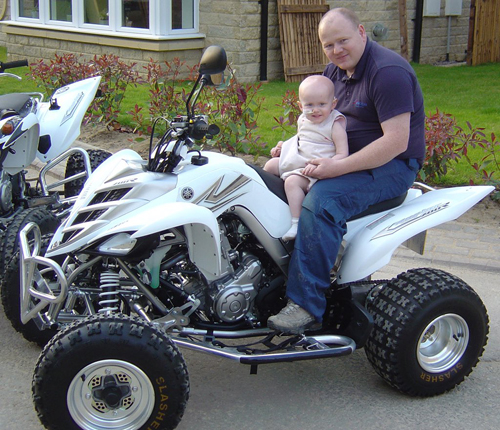 Over the last few months, the heating and plumbing industry has seen a real sense of community develop. A common trend that has emerged recently is the set up of social media groups and campaigns that are run by installers. These provide a platform where plumbers and engineers are able to discuss the industry, any concerns they may have, and seek advice from other installers.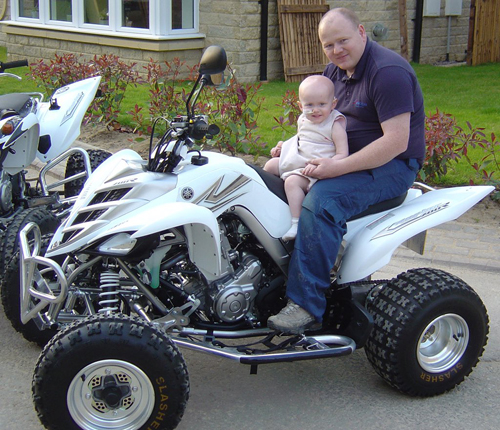 Among these groups is Gas Chat, set up by Leeds based installer, Allen Hart, and his friend, Tony Bird. It now has over 5,000 members.
After Allen's daughter, Laura Hart, was diagnosed at 16-months-old with a Wilm's tumour, a rare form of kidney cancer, Allen decided that he needed to do something to help. Between hospital visits, he started to raise money, which he donated towards the cancer charity, Candlelighters Trust.
"The Candlelighters pay for research and play staff, give support for families, even make you a cup of tea. Simple stuff you don't actually understand you need until you've experienced something like this," Allen explained.
After having countless chemo and radiotherapy, a kidney, spleen and numerous tumours removed, along with part of her pancreas, Laura sadly lost her battle to cancer in 2007, aged just three.
Although Allen has done several charity events previously, including his first quad bike tour from Lands End to John O'Groats, he wanted to do more.
"I thought, 'well, I'm a gas engineer and I could earn quite good money.' So I started to donate a day each week to do boiler services and installs, and I gave that money to Candlelighters."
Initially, Allen funded the parts and boilers himself for these charity installs, taking no money from the job for himself. Obviously for financial reasons he couldn't continue to do this, so he began to ask manufactures to donate boilers to him.
"I didn't tell the customers I was doing this, because I didn't want to put pressure on anyone to do a job for them," Allen said. However, news spread anyway about what Allen was doing and a post was placed on Gas Chat about his charity work. This inspired engineers all over to get in touch, so to help Allen with these installs.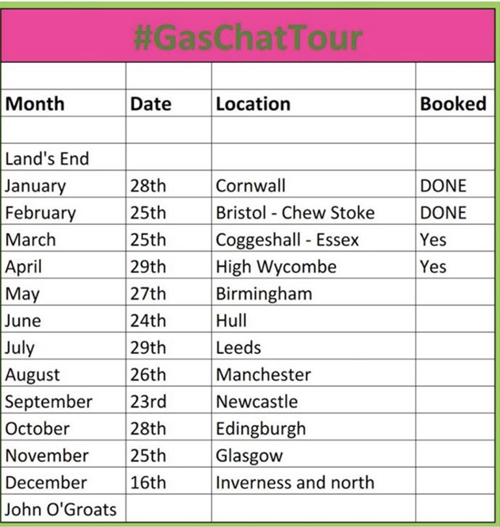 Allen decided he would set up a sponsored tour, now known as Gas Chat Tours. He also separated the charity work from the Gas Chat group, creating a Facebook and Twitter for it, which can be found at: @GasChatTour.
Allen decided that he would use the same route as his first charity tour. "The journey has a big meaning for me because I did my first quad bike tour on this route," he explained. "It's like the journey home. I've done my charity work for 11 years. This is how I started my journey and how I will end it. It's also the tenth anniversary of my daughter's death."
"Once I have completed this journey I'm going to take a step back. I will still do some charity stuff, but I can't continue like this financially."
Ariston offered to sponsor the Gas Chat Tour, providing Allen with 12 boilers to fit as he made his journey back home.
Along with the support Allen and his family have gained via social media, Paragon Workwear is also providing anyone who donates £10 on the Just Giving page (visit: https://www.justgiving.com/fundraising/cchleeds to donate) a Candlelighters and Gas Chat Tours T-shirt.
Although the tour had already seen two months, Allen and Ariston are still on the hunt for job donations. If you're interested in having an Ariston boiler fitted and donating 100% of the charge to Candlelighters, have a look at the map of locations and dates that Gas Chat Tours (pictured) are featuring, and pop @GasChatTour a message via the Facebook or Twitter page.