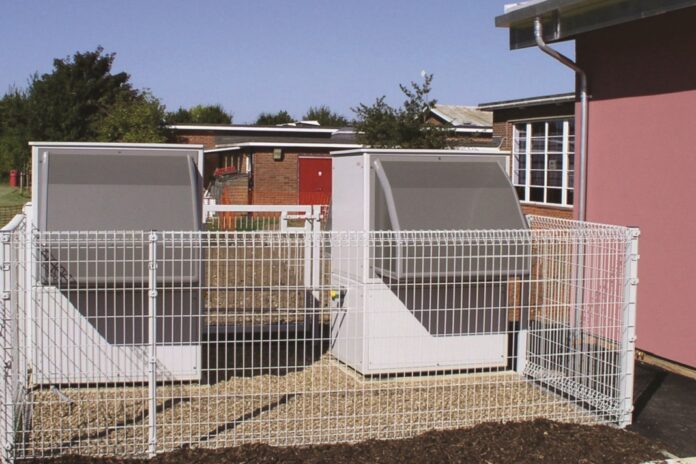 In 2012, Elco installed AEROTOP T26 air source heat pumps outside a new teaching block at Heath Primary School, in Suffolk.
Elco representatives have said that the heat pumps have since supplied efficient space heating to six classrooms, communal rooms and toilet facilities via a low temperature underfloor heating circuit.
During their operating lifecycle, the heat pumps have delivered high COPs, allowing the school to save up to 15 tonnes of carbon, when compared to a traditional gas boiler setup.
UK specification manager for Elco, Mark Ferris, returned to the school earlier this year.
He said: "It's hard to believe now but, 10 years ago, there were not many commercial heat pumps being specified for applications like this, so it's fantastic to see the Elco units still operating to the same level as they did in 2012! At the time, there were both practical and environmental needs for utilising heat pumps, especially as there was no mains gas at the school, which made traditional technologies prohibitive. And after reassessing the project today, selecting air source heat pumps was clearly the right decision.
"The two units, buffer and hydraulic circuit have clearly been well maintained over the years, which has further optimised the system's performance. However, it also highlights the suitability of commercial heat pumps and how well they can operate when specified and installed correctly."
During Mark's visit to the school, he took the opportunity to speak to the caretaker, Dominic Gallant, and ask him about his experiences with the AEROTOP units.
Dominic added: "The heat pumps usually run from mid-October to the end of February, supplying space heating via the underfloor heating circuit. They have worked incredibly well since they were installed, and I don't think we've ever had to replace a single part! Overall, we've been really impressed with their performance and efficiency."