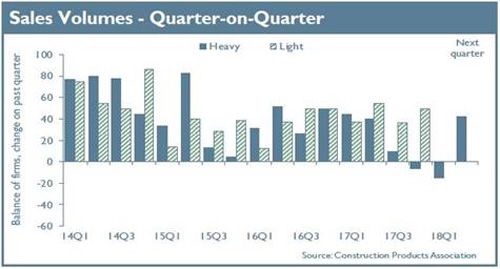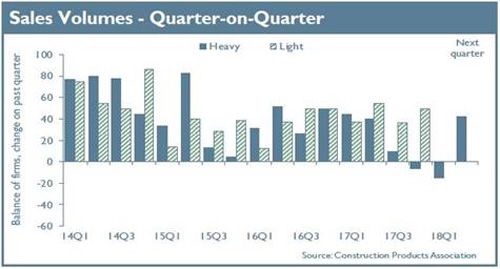 The Construction Products Association's (CPA's) State of Trade Survey for 2018 has shown that the £56 billion UK construction products manufacturing industry suffered a weak start to 2018.
The results for Q1 were affected by the liquidation of Carillion and several days of disrupted activity due to snow and freezing temperatures.
Heavy side manufacturers recorded the lowest balance in five years with 15% of firms reporting a decline in sales in Q1, following a previous quarter of falling sales in 2017 Q4.
For light side manufacturers, no firms on balance reported either an increase or a decrease, which was the weakest performance since 2013 Q2. Construction product sales act as an early indicator of wider construction activity and these results signal a noticeable dip in total industry output for Q1.
Manufacturers anticipate a return to growth in the coming quarters, but rising costs continue to act as a headwind. 90% of heavy side manufacturers and 84% of those on the light side reported a rise in raw materials costs in Q1, while the same proportions reported an increase in wages and salaries. In addition, fuel costs rose for 90% of heavy side manufacturers.
Rebecca Larkin, CPA senior economist, said: "It was always unlikely that heavy side manufacturers would avoid the snow disruption, with aggregates quarries unable to operate and pauses in activities such as groundworks and bricklaying affecting demand for products and materials from construction sites. In addition, manufacturing capacity in this energy-intensive sector of the industry is likely to have been temporarily reduced by the National Grid's gas deficit warning at the beginning of March.
"It appears from the forward-looking indicators that Q1 was just a weather-related blip, as 42% of heavy side manufacturers anticipate sales rising in Q2 and 37% see sales rising over the next 12 months. However, no light side manufacturers expect sales to increase in the next quarter and only 16% anticipate a rise over the course of the year, likely to reflect the lagged impact of any pauses in activity in Q1 on demand for these non-structural and finishing products that tend to be used nearer the end of the building process."