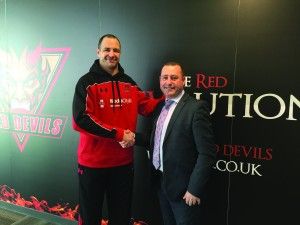 Conex Bänninger UK is to sponsors Rugby League veteran, Adrian Morley of the Salford Red Devils.
Conex Bänninger has been involved with the Red Devils Salford Club for the past few years, with various sports and charity events, such as Match Day sponsorship and the club's annual charity golf event.
Adrian is the the oldest player in Super League and the most capped England and Great Britain player of all time.
Lee Kenny, business unit director: UK and Northern Europe, said: "I wish Adrian and the rest of the team the very best this season. It will be tough but I know with the hard work, assistance and support from veterans and talents we have in the team this year, I am sure we will succeed."
Adrian said: "It's fantastic to have this great company behind me and supporting my career – it's a real boost."