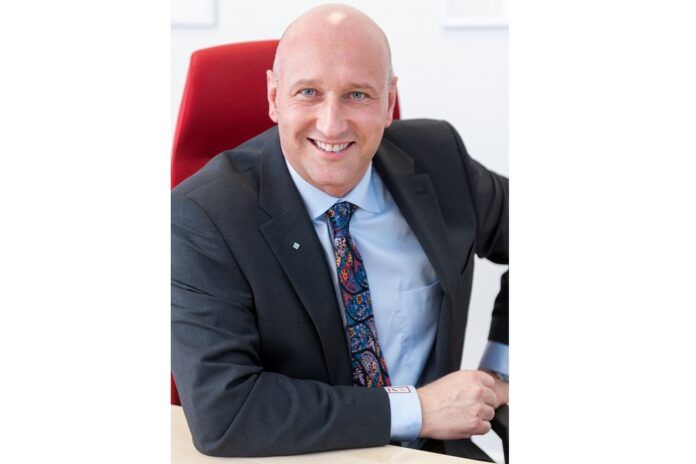 Following the release of the Climate Change Committee's (CCC) decarbonisation progress report, business leaders from NIBE Energy Systems, Daikin UK and the Heat Pump Association have responded.
The report highlights an immediate need for the government to boost use and acceptance of low carbon heating technologies such as heat pumps, as well as create a comprehensive retrofit plan for England.
Phil Hurley, pictured, managing director of NIBE Energy Systems, said: "The Climate Change Committee CCC's Progress Report has confirmed, as expected, that heat pumps are being rolled out far too slowly here in the UK.
"Despite the ambition to get to a place where 600,000 heat pumps are being rolled out every year by 2028, we are reminded yet again that we are at risk of missing this target without further policy support from government.
"As great as it has been to have seen commitments this year to address some of the challenges to deployment, it is critical that policy commitments from the government are implemented, including the rebalancing of energy levies to reduce heat pump running costs, and that more support is provided to consumers."
Henk van den Berg, strategic business manager of heating and renewables at Daikin UK, added: "The UK's strategy to encourage renewable heating technology uptake has been too weak for too long. Nothing is more important than driving the nation's transition away from harmful gas boilers, creating green jobs and a green supply chain in the UK.
"The new government proposals to fine companies who miss quotas for heat pump production and installation are a welcome first step, as is the plan to use this revenue to incentivise heat pump companies to ramp up production. 
"But we'd like to see government go further and extend its subsidies to cover hybrid heat pumps, which can be a helpful transition step for households looking to embrace new technology. This will further stimulate demand and, in turn, incentivise gas boiler manufacturers to accelerate their diversification into heat pumps."
Charlotte Lee, chief executive of the Heat Pump Association, said: "The Climate Change Committee's report leaves no room for doubt. The UK's progress in heat pump installations, cost reduction, and trained installers is alarmingly off-track to meet heating decarbonisation targets.
"To switch the dial on progress, we need swift and decisive action from the government to introduce the Future Homes Standard, provide early clarity of a date for the full phase out of 100% fossil fuel boilers, and take urgent steps to reduce the price of electricity."The Electrification of Heat Demonstration Project showcases the potential of heat pumps, providing us with a no-regrets solution. It's important to acknowledge that progress is being made in the UK, with year on year market growth and investment into UK manufacturing facilities. However, more needs to be done, and quickly."With resolute action, we can close the gaps. But the time for positive and decisive change must be now and we stand behind the call for government to 'Stay firm on existing commitments and move to delivery'."