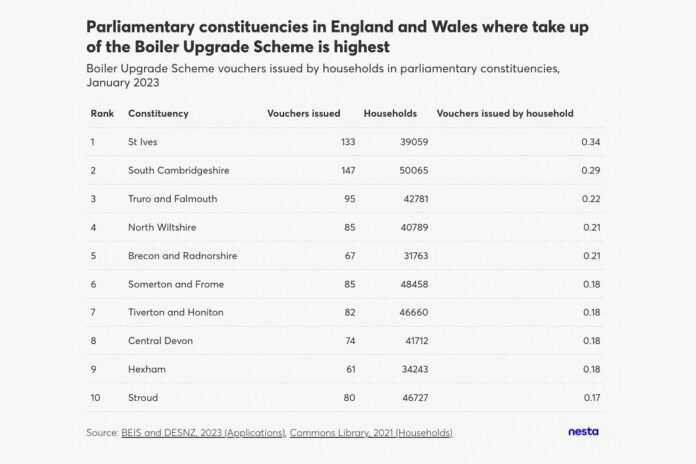 In its first full year, the Boiler Upgrade Scheme (BUS) has cut over 17,000 tonnes of carbon emissions by funding green ways for people to heat their homes, according to research published by Nesta. This was equivalent to the emissions from over 55,000 people flying from London to New York in a year, a statement has said.
Nesta's analysis shows that demand for heating systems paid for through the BUS was highest in rural areas, with two of the top three constituencies for applications in Cornwall, and South Cambridgeshire the second-highest.
BUS is implemented via a voucher scheme, with an MCS registered installer applying for a voucher on a household's behalf and claiming the voucher rebate at the end of the works. Voucher applications must be processed before a voucher is issued. Following this, a redemption application needs to be processed before a redemption payment to the installer is made.
While 53% of the maximum number of vouchers available had been applied for by the end of March 2023, there had been some delays turning some of the vouchers into payments. Nesta's analysis found by the end of March around three in five applications received had translated to redemptions paid.
Andrew Sissons, deputy director of sustainable future at Nesta, said: "Heat pumps are among the most important tools we have to tackle climate change. The boilers most of us have in our homes are one of the biggest sources of carbon emissions, and replacing them with cleaner, greener alternatives like heat pumps is an essential part of reaching net zero.
"While the first year of BUS has not been smooth sailing, it has already demonstrated that heat pumps can significantly reduce our carbon footprints at home. Despite initial delays in the online application portal and processing payments, thousands of people across England and Wales have taken up the offer to help fund renewable heating systems in the scheme's first year. This has reduced carbon emissions by the equivalent of over 55,000 transatlantic flights, with the promise of greater savings in the scheme's second year.
"However, the UK is lagging behind Europe and the USA for heat pump installations, so it is past time for us to start installing them here at pace. Alongside the Boiler Upgrade Scheme, there are things the government needs to do – from making electricity cheaper to supporting heating engineers to retrain – to help heat pumps take off.
"It is very promising to see more rural areas, such as Cornwall and Devon, leading the way on installing heat pumps under the scheme. Meeting demand for heat pump installers could be an important source of attractive green jobs in rural communities in England and Wales."