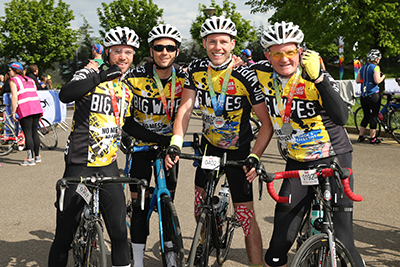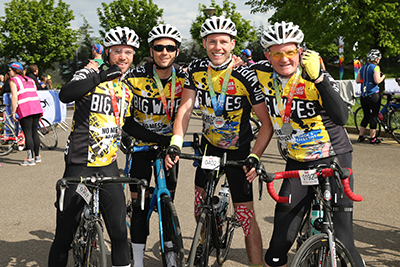 The Big Wipes cycling squad have cranked up pace and pedalled round London to raise vital funds for Thames Valley Air Ambulance (TVAA).
The Big Wipes team made up of Nigel Dibbo, Jack Knight, Chris Hatt and Daniel Kiddle along with four friends set out on 14 May to cycle the tough 185 mile Dulux Trade London Revolution, camping overnight at the halfway point.
On average three people every day find themselves in a life-threatening situation that requires urgent medical treatment at the scene before they reach hospital. The air ambulance team, led by a highly qualified doctor, can be there within minutes ready to deliver the same level of care that would only otherwise be found in the hospital emergency department. But as a charity, the TVAA relies entirely on fundraising and donations.
The Big Wipes team rose to the challenge and are hoping their charity cycle will raise £3,000 to help the TVAA continue to achieve its mission – to save lives.
"The Thames Valley Air Ambulance Service does an incredible job, but it needs the community's generosity to save lives," says Nigel Dibbo, managing director of Big Wipes. "That's why we at Big Wipes set ourselves the fun challenge of cycling those 185 miles and we are very grateful for all the kind-hearted sponsorship, which will make a big difference to the TVAA team."
Bekki James, corporate fundraising manager for TVAA, added: "We are hugely grateful to the Big Wipes team. We would not be here if it wasn't for the generosity of individuals and our local business community.
"Our purpose is to deliver cutting edge medical care whenever and wherever a patient needs it.  This is costly but listening to just one story from our ex-patients makes you realise how vital our service is."
If you want to support Nigel and the Big Wipes crew for their 185 mile charity loop visit: https://www.justgiving.com/fundraising/BigWipesLondonRevolution