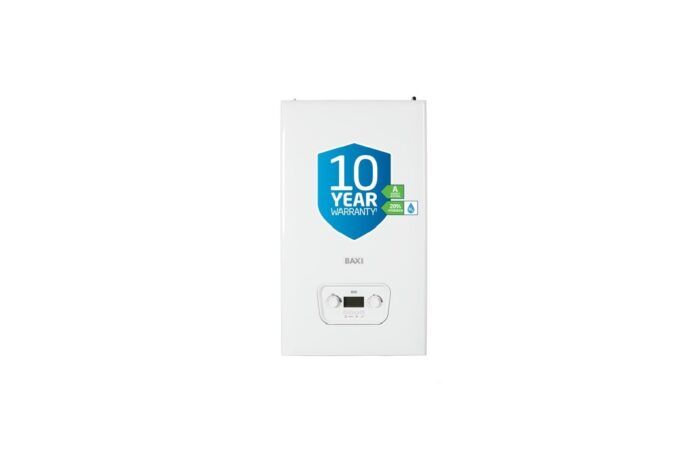 Baxi has launched its latest 600 and 800 Combi and System 2 boilers with a suite of new features introduced as a result of feedback from heating engineers.
The new ranges have been designed to make installation and maintenance run smoother, a statement has said. Improvements to the new Combi and System 2 boilers include a pre-heated siphonic condensate trap, which prevents freezing and boiler lockouts in adverse winter conditions, a combined PrV and separate primary boiler drain for quick, simple draining and maintenance access, and colour coded wiring blocks for easier wiring. Both ranges are now also manually convertible between Natural Gas or LPG without the need for a conversion kit to be fitted, adding flexibility for off gas applications.
According to Baxi, the new 30kW output in the 800 System 2 boiler means the complete range offers outputs in the region of 24kW to 36kW for Combi boilers and 15kW to 30kW for System. This provides installers with greater flexibility to meet the requirements of a variety of domestic property applications – large and small.
The compact and lightweight 600 and 800 models make fitting in cupboards and small spaces much easier. With a top central flue and pipe-behind facility, as well as naturally stronger and more corrosion resistant brass hydraulics, they are designed from the ground up with installers in mind. All boilers come with a stainless steel heat exchanger and are certified to run on an 80/20 blend of natural gas and hydrogen.
All new models feature Certified OpenTherm technology, which maximises their efficient benefits when fitted and paired with Certified OpenTherm controls. When the new Baxi 600 or 800 Combi 2 boilers are fitted to the latest Baxi uSense 2, energy usage is optimised, gas consumption can be reduced and installers can meet mandatory Boiler Plus compliance requirements.
For homeowner and installer peace of mind, the 600 Combi and System 2 models have a 7-year parts and labour warranty, while the 800 Combi and System 2 models include the 10-year parts and warranty and includes an Adey Magnaclean Micro 2 system filter, protecting the boiler and maintaining efficiency.
With environmental impact in mind, Baxi has said that it has switched to an 'entirely recyclable' vertical sleeve packaging design with no polystyrene, making its disposal much 'easier and more sustainable'.
Nick Platt, commercial and marketing director at Baxi, said: "We are delighted to complete our range of high-performance boilers with the launch of the 600 and 800 Combi and System 2 models, which join the latest 200 and 400 Combi 2 models launched last year.
"By listening closely to feedback from our network of customers and applying it to our latest offerings, we're confident that we have the most installer-friendly and high performing ranges available. We've kept the features that heating engineers loved and added some that were requested, and now we have two exemplary heating solutions that showcase Baxi's quality, durability, and commitment to installers."