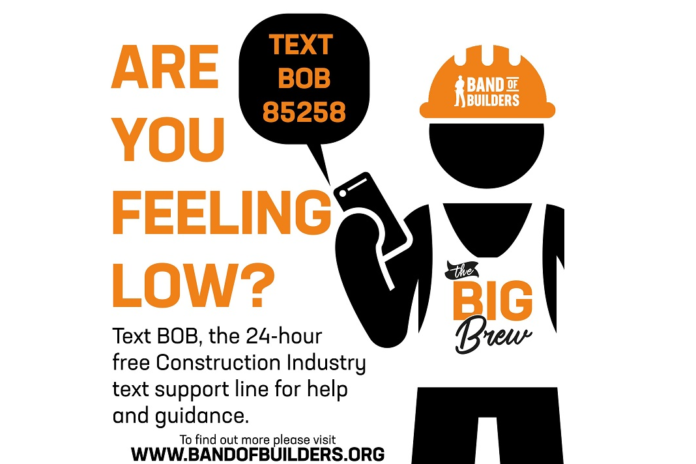 Band of Builders has launched a new text line so that tradespeople, contractors and their families struggling to open up in person can text BOB to 85258 at any time to get much-needed help.
The new service coincides with the return of the Big Brew – a campaign led by the charity in a bid to shine a spotlight on the mental health crisis in construction.
Also new for this year is the Big Brew tea scale, presented as an image of different strengths of cups of tea, which will act as an icebreaker to start conversations where tradespeople can ask one another where they rank on the scale.
Events are being held in October to coincide with World Mental Health Day, and the Big Brew organisers point to shocking figures that highlight the scale of the mental health crisis in construction.
A survey jointly organised by the Building Engineering Services Association and the Electrical Contractors' Association found the following:
UK construction sector workers are nearly three times as likely to die by suicide than their counterparts in other industries.
The suicide rate of UK construction workers is estimated to be as high as two people every day.
Mental health issues are responsible for approximately a £37 billion cost to the UK construction industry every year.
90% of construction managers have struggled with their mental health.
In the UK alone, 400,000 working days were lost to mental health issues in 2018 (55% of all days lost).
Peter Cape, the Big Brew lead at Band of Builders, said: "The campaign is proving to be a vital lifeline at a time when suicide rates in the sector were already at one per day before the Covid pandemic – according to ONS figures – and it's widely accepted that these have worsened to closer to two per day.
"The challenge has been to make it as easy as possible for tradespeople and contractors to take that all-important first step and reach out for help. The new tea scale is a great icebreaker, prompting people to ask where their mental health is on the scale. And if someone isn't in a place where they can open up face to face, the new text service is another way to get the ball rolling in seeking help.
"It's fair to say that construction workers, like everyone else in the UK, are facing difficult times with the ongoing cost-of-living crisis, so it's more important than ever that they have somewhere to turn to if they need to talk – whether that's in person or via text."
Mike Lomas, managing director of Big Red Industries, said: "Through partnering with Band of Builders on this remarkable campaign, we hope not only to increase awareness of the mental health support services that are available but also to encourage other construction companies to join us in being part of the change. Big Red, big change."