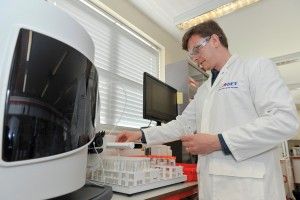 ADEY Professional Heating Solutions has launched a premium water testing service for installers, utilities, local authorities, housing associations, contractors and manufacturers.
The new online service which has taken 24-months to develop and cost £225,000 to set up, employs a team of leading analytical chemists qualified to the highest water treatment standards in the industry.
Carried out at ADEY's state-of-the-art R&D laboratory in Kent, the new service offers fast, comprehensive and reliable analysis of central heating system fluid. Test results and a full analytical report detailing problems and recommended solutions, are then returned within just 48 hours via a secure, user-friendly, online portal.
Comprehensive tests are completed on a broad range of test parameters including the determination of corrosion products, scale deposition, pH, chloride, conductivity and inhibitor levels.
"With boiler manufacturers increasing warranties, we're seeing more stringent criteria against which they will be honoured," said Mo Jassal, ADEY's technical manager.
"Water testing is now becoming more crucial than ever across our sector to keep these longer-term warranties intact and we're fully equipped to meet this demand. It's the first port of call for a manufacturer to check water quality and confirm if correct installation and maintenance procedures have been followed.
"ADEY's testing service gives total peace of mind and the process is extremely simple. Installers can pick up test kits from their local merchant, send them to the lab using the pre-paid envelope and within 48 hours they'll receive an email with their results," he said.
"We're also able to offer a totally bespoke service for our growing number of customers wherever required and work closely with organisations to ensure individual needs are catered for. We even look after all the water testing portal development using our own team of specialist in-house programmers, based at our UK head office in Cheltenham."
ADEY is already witnessing significant demand in the new service and is looking to expand the team further over the coming months.