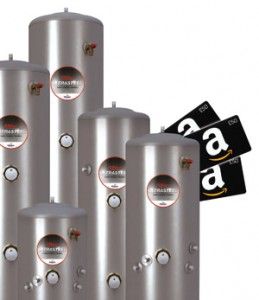 Kingspan Environmental has announced a national promotion through the summer, offering a £50 Amazon gift card with every purchase of an Albion Ultrasteel hot water cylinder.
Installers can claim the £50 Gift Card on an unlimited number of purchases* made before August 31, 2015, and claims will be accepted for one month after the promotion ends. Claims can be made online at: www.kingspanenviro.com/shopwithalbion or sent by post to Kingspan Environmental's head office in Wakefield. All claims must be validated with a copy invoice and live email address to which the gift card will be sent within 48 hours Full terms and conditions can be found on the promotional website.
Participating merchant branches will be displaying promotional point of sale, including an explanatory leaflet, awareness poster and eye-catching free standing display, while the manufacturer's UK trade sales team will be working with merchant branches across the country to help drive the key product messages of quality and value.
As part of its customer relationship programme, Kingspan is inviting installers to sign up to the Kingspan Installer Network in order to receive additional benefits and support. A Shop with Albion claim will qualify installers for the network and receive the latest product news, priority technical advice and free merchandise. Regular email communication with the network will also include local sales leads.
Request further information about the Kingspan Installer Network by sending an email to: cylinders@kingspan.com
* This promotion is only available to installers and contractors who are not receiving Kingspan contract support on Albion Ultrasteel products