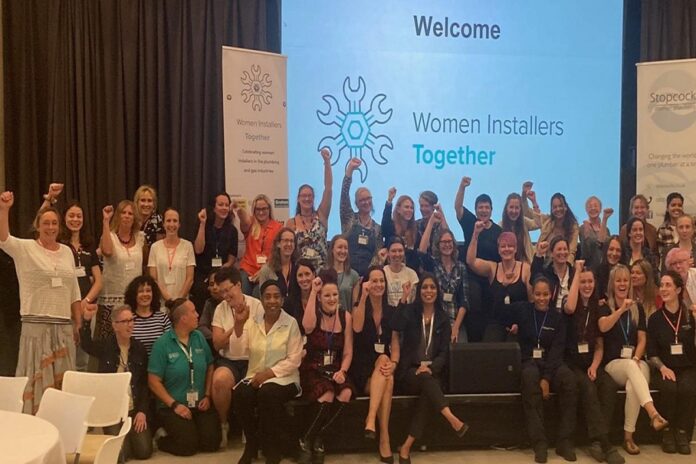 Mark Vitow has announced a three year sponsorship of the Women Installers Together conference (WIT).
Taking place on 4 July at London Metropolitan University, it's a full day event with a celebrity speaker, tradeswomen talking about their lives and round table discussions on hot-topics for women in the skilled trades.
WIT started in 2017 as the only national event for women plumbers and heating engineers. According to a statement, it's still the only one but has opened its arms to all skilled tradeswomen, women trainees and male allies.
Hattie Hasan MBE, founder of Stopcocks Group, the Register of Tradeswomen CIC and the Women Installers Together conference, said: "With women in skilled trades still only around 1% of all tradespeople, this event is the only opportunity for many to meet others who share their unique experiences. WIT provides loads of opportunities to meet other tradeswomen, share their experiences, talk, listen and forge friendships, and to meet our fantastic sponsors!"
Matthew Phillips, Mark Vitow's managing director, said: "I am delighted and proud to commit Mark Vitow to supporting the Women Installers Together events in 2023, 2024 and 2025. The values and mission of Stopcocks Group are aligned with our own – respect, integrity, innovation and ambition – and we have been inspired by what they have achieved in recent years. Thank you to Hattie, Mica and the team for having us on board!"
Hattie added: "We're thrilled that Mark Vitow have not only sponsored the WIT event again this year, they have committed to support it for the next three. It means so much when companies, manufacturers and organisations demonstrate their ongoing commitment to supporting greater inclusivity in the skilled trades sector. We do get some box ticking and lip service, and then some companies step right up to the plate. It means a lot."
Free tickets for all tradeswomen and trainees will be released soon.