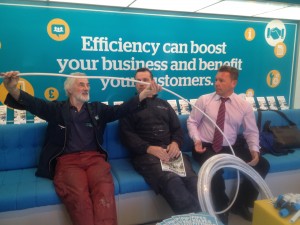 Standing still in today's highly competitive world isn't an option, which is why innovation is at the heart of the ON-SITE roadshow, visiting 37 Plumb and Parts Center branches this summer.
ON-SITE focuses on pipes, valves and fittings and is supported by leading manufacturers, JG Speedfit, Geberit, Pegler Yorkshire, Wavin and Polypipe. Through live presentations and interactive sessions, they'll demonstrate how their products will save you time and money, and boost your bottom line.
Push-fit and press-fit technologies are offering installers, working with metal, plastic or multi-layer products far greater flexibility, and the roadshows will help them select exactly the right product.
Plumb and Parts Center's head of marketing, Julie McLean, said: "We understand sparing the time to visit a trade show can be a challenge, which is why we're bringing the ON-SITE trailer to our branches.
"We're convinced if people can spare us an hour, we can really make a difference to their business. And if they're excited by what they see, it's a short step to the branch to stock up."
ON-SITE visited 39 branches last autumn and phase two, which starts on June 2, will focus on the Midlands, the south east and the south west.