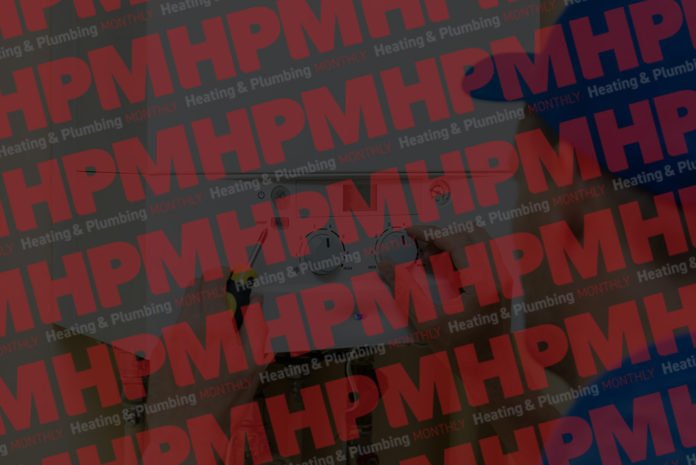 2020 has been a challenging and difficult year for readers but HPM hopes you can finish on a festive high by entering our annual Christmas competition. Simply answer the questions online for the chance to win a prize of your choosing. Full terms and conditions are below.
TRITON HOST DIGITAL MIXER SHOWER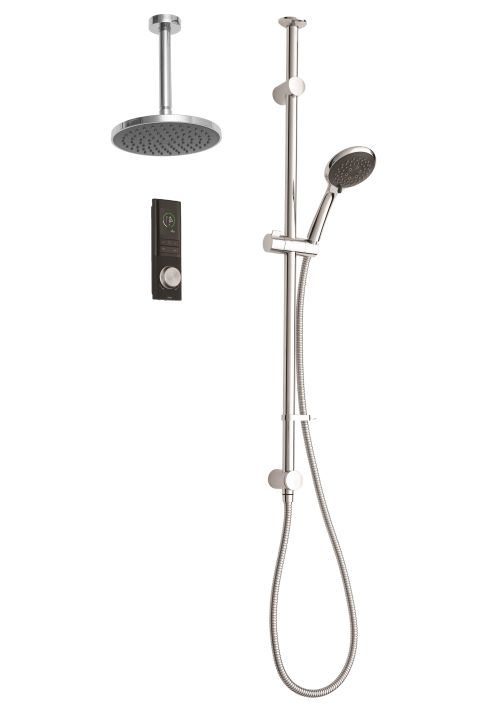 With a minimalist control panel in black, Triton's HOST digital mixer shower is the ultimate showpiece for any modern bathroom. HOST technology allows users to enjoy a personalised experience with three customisable pre-sets.
No matter your choice of décor, HOST has been developed to provide complete design flexibility, and can be selected with a choice of fixed showerheads, secondary handsets and holders to complement any bathroom scheme. In addition, the sleek panel with full text and colour TFT digital display can be positioned anywhere on the wall within 10 metres of the mixer box.
There is even a solution for homes with low water pressure, where an extra boost is needed to increase water flow. In such circumstances, Triton's silent running pump technology reduces noise, so an early start or evening retreat won't disturb the whole household.
For your chance to win one, simply answer the following question:
Triton's HOST digital shower is available in what colour? Black, pink or red?
MARK VITOW FESTIVE BUNDLE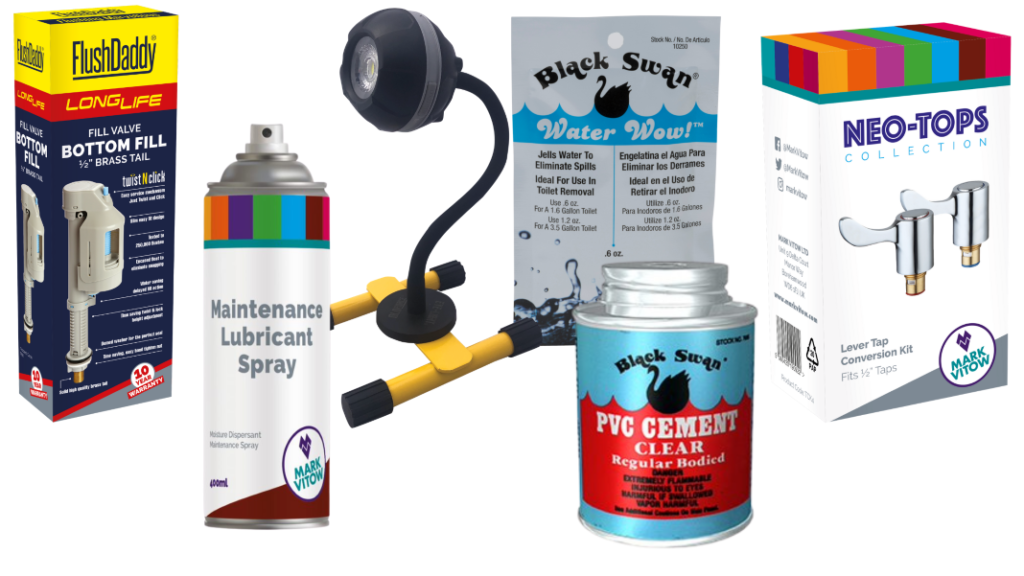 Independent distributor of plumbing, heating and bathroom products, Mark Vitow Ltd, has put together a festive bundle for HPM readers!
The bundle includes an Eye-Light 1000 lumen, rechargeable work light. Its strong rubber magnetic gooseneck will position the Eye-Light wherever it's needed, as a standalone light, attached to metal surfaces or even hooked over or wrapped around items or surfaces.
Also included is a FlushDaddy T68 LongLife Bottom Entry Fill Valve, the only valve to offer Twist N Click technology, enabling the change of a washer in just 5 seconds! This best-selling product has been tested to 250,000 flushes and comes with a 10-year warranty.
What festive bundle would be complete without Black Swan PVC Cement – the plumbing trade's PVC cement of choice – with the perfect consistency and a ball applicator for unrivalled precision? Also included is the amazing Black Swan Water Wow, which turns water to gel for easy water removal – ideal for toilet removal and large puddles.
The giveaway also includes two of Mark Vitow's own brand products including MV Maintenance/Lubricant Spray for general purpose maintenance on threads, metals, etc which lubricates, stops squeaks and frees rusted parts and the popular Neo Taps Lever Tap Conversion Kit.
What year was Mark Vitow founded?
T-SMART HOT WATER CYLINDER THERMOSTAT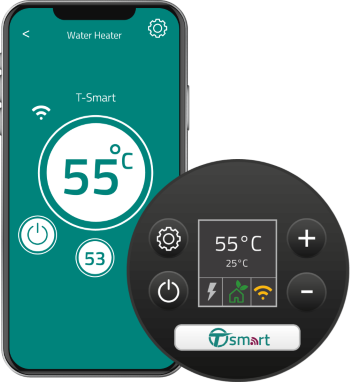 T-Smart from Tesla UK Ltd is a smart hot water cylinder thermostat. The innovative wirelessly controlled learning thermostat provides hot water when you need it, reducing energy wastage by managing your hot water usage.
Your homes hot water requirement can be managed by the T-Smart learning capabilities or can be scheduled via the 7 day built-in programmer. Unlimited time and temperature settings in the easy to use T-Smart app gives you complete flexibility and control.
The T-Smart features Manual, Eco, Smart, Timer and Travel modes – which ensures there is a setting for every application and user. Safety features such as the freeze protection and anti-legionella mode mean the home is continuously protected from frost and more importantly bacteria such as Legionella and Pseudomonas growing in the hot water system.
T-Smart can be installed and connected to your smart network within minutes, allowing you to effortlessly update your cylinder to a smart controlled home appliance increasing product functionality and homeowner control.
What two T-Smart safety features continuously protect your home?
MCDONALD WATER STORAGE COPPER PRIZES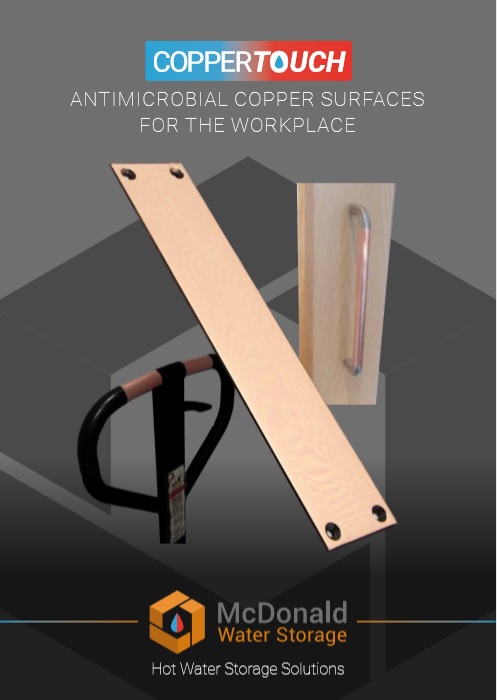 McDonald Water Storage is giving away three prize bundles including 4 COPPERtouch door push plate overlays, t-shirt, pens, notepad and keyring torches.
Being one of the UK's leading manufacturers of hot water systems, our material of choice is copper. It is widely recognised that copper contains fantastic properties to kill and prevent bacteria growth. In fact, 99% of the bacterial population introduced into a copper plumbing system will disappear in under five hours!
With this in mind and in the year of COVID, we have diversified our range with the introduction of COPPERtouch antimicrobial surface protection products, which help contribute to your protection either in your home or workplace, with a number of options available including solid door push plates and a range of self-adhesive overlays.
Easily retrofitted, they quickly destroy bacteria and virus pathogens on contact and provide increased protection and peace of mind.
How many products make up the COPPERtouch range, three, four or five?
ROPER RHODES EVENT-CLICK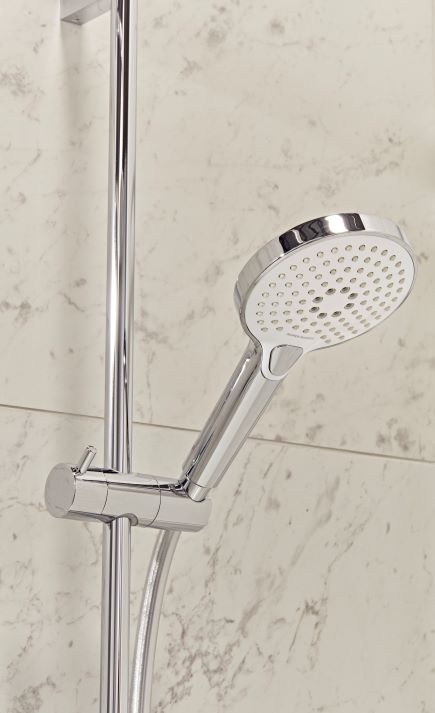 Turning the everyday task into something more luxurious, Event-Click showers from Roper Rhodes offer precise temperature control and deliver an indulgent and relaxing showering experience at the touch of a button.
Precise ergonomic controls allow you to simply change the showering function and enjoy three invigorating shower settings. It is also incredibly quick and easy to fit through its unique design which utilises a manifold to takes the rigid water feed and allows flexibility with the valve by connecting it up via flexible hoses.
Find out more about Event-Click on page 38 and to win a shower simply answer the following online:
How long is the guarantee on an Event-Click shower? Two, five or 10 years?
HOTUN FESTIVE PRIZE BUNDLE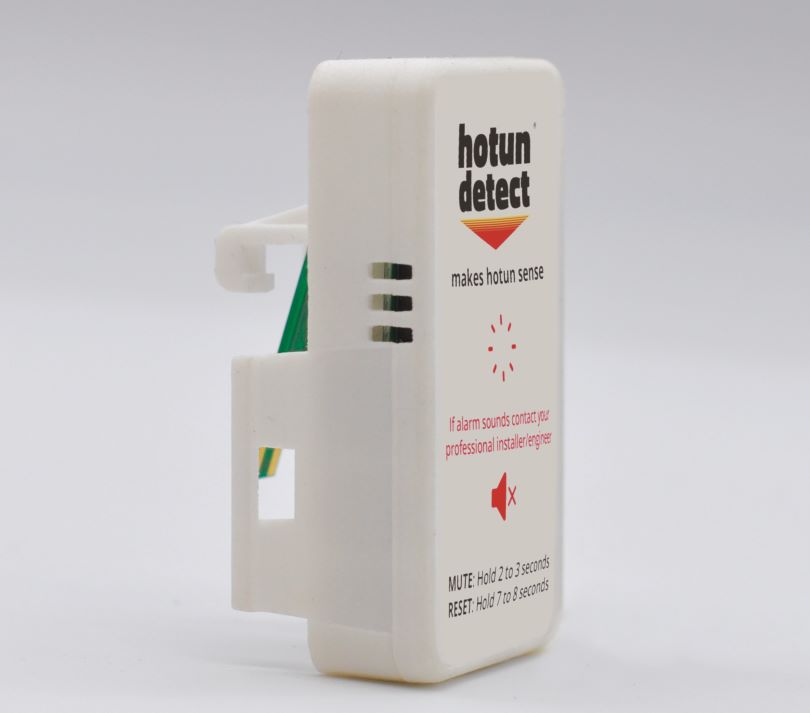 RA Tech UK has offered two prize bundles for HPM readers to win this Christmas holiday.
The RA Tech bundles includes the hotun detect in -tundish alarm unit, which is a newly-launched award winning product. This product has an audible and visual alarm of the relief valve passing water, indicating that there is something wrong with the system or appliance.
Lucky winners will also be in line to win a hotun white SF (15 – 22) dry trap tundish, hotun hiflo SF white (15 – 32) dry trap tundish, hotun shield SF, branded drinks bottle, branded pen and branded van sticker.
For your chance to win all this simply answer the following question:
Is the hotun detect battery operated?
TERMS AND CONDITIONS
The HPM Festive Giveaway competition will close on 30th January 2021. To participate, submit your answers at hpmmag.com/festive-giveaway-20. The competition is open to registered UK readers of HPM over 18 years of age, except employees of the contributing companies and Mark Allen Group. No purchase necessary. Only one entry per reader for the chance to win a maximum of one prize each. The editor will select the winners at random. The editor's decision will be final and no correspondence will be entered into. Prizes subject to availability.