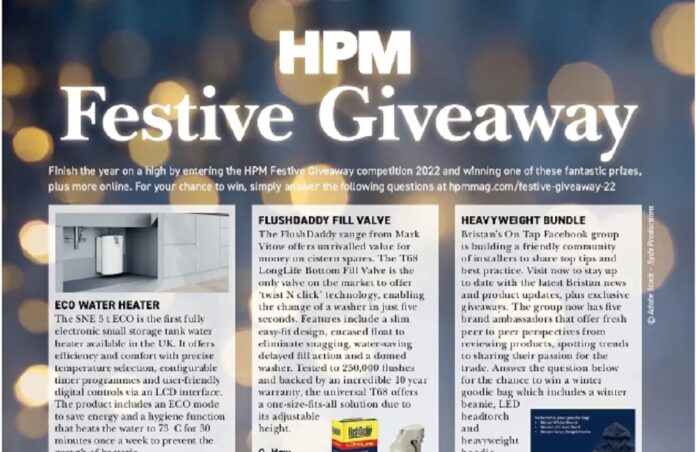 Finish the year on a high by entering the HPM Festive Giveaway competition 2022 and winning one of these fantastic prizes. For your chance to win, simply answer the following questions online at hpmmag.com/festive-giveaway-22
STIEBEL ELTRON ECO WATER HEATER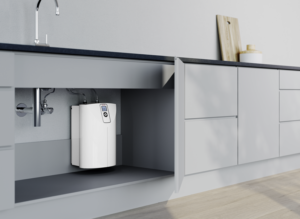 The SNE 5 t ECO is the first fully electronic small storage tank water heater available in the UK. It offers efficiency and comfort with precise temperature selection, configurable timer programmes and user-friendly digital controls via an LCD interface. The product includes an ECO mode to save energy and a hygiene function that heats the water to 73 ͦC for 30 minutes once a week to prevent the growth of bacteria.
Q) SN 5 t Eco is a vented water heater product. Does this mean it is
a) suitable for multiple outlets like a sink and shower or
b) suitable for one outlet like a kitchen sink?
FLUSHDADDY FILL VALVE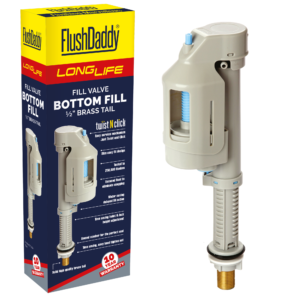 The FlushDaddy range from Mark Vitow offers unrivalled value for money on cistern spares. The T68 LongLife Bottom Fill Valve is the only valve on the market to offer 'twist N click' technology, enabling the change of a washer in just five seconds. Features include a slim easy-fit design, encased float to eliminate snagging, water-saving delayed fill action and a domed washer. Tested to 250,000 flushes and backed by an incredible 10 year warranty, the universal T68 offers a one-size-fits-all solution due to its adjustable height.
Q) How long is the warranty on Mark Vitow's FlushDaddy LongLife T68 valve?
HEAVYWEIGHT BUNDLE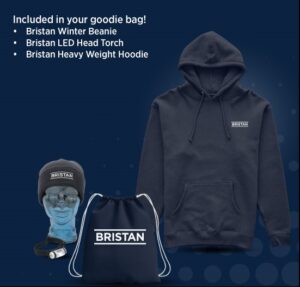 Bristan's On Tap Facebook group is building a friendly community of installers to share top tips and best practice. Visit now to stay up to date with the latest Bristan news and product updates, plus exclusive giveaways. The group now has five brand ambassadors that offer fresh peer to peer perspectives from reviewing products, spotting trends to sharing their passion for the trade. Answer the question below for the chance to win a winter goodie bag which includes a winter beanie, LED headtorch and heavyweight hoodie.
Q) How many On Tap brand ambassadors are there?
HANSGROHE SHOWER SYSTEM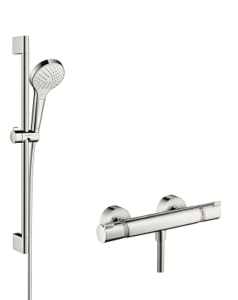 Consisting of a hand shower, thermostatic shower mixer, shower bar, slider and shower hose, the Croma Select S is the perfect set for any bathroom. With a Select button to switch between three different spray types, Rain, IntenseRain and Turbo Rain, and a 110mm shower head to envelope you in a luxury showering experience, Croma Select S also has QuickClean technology for easy limescale removal. The EcoStat Thermostatic shower mixer features an Ecostop button to limit water flow to 10L per minute, reducing water consumption and energy use.
Q) Name one of the three spray types the Croma Select S offers?
NEXGEN REVOLUTION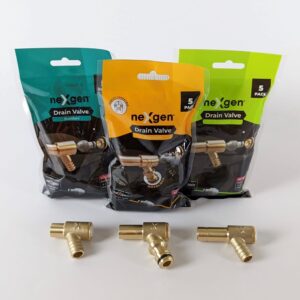 The neXgen revolutionary design overcomes the number one issue with drain valves. A one piece insert removes the risk of eroded or stuck washers, the main cause of leaks and delays when carrying out maintenance to a system. With three different versions available in Standard, Long Tail and Premium – including Hozelock connection, neXgen uses a 6mm hex key to operate. Press-fit compatible, a 1pc non-stick plastic insert stops minerals and debris from sticking to it and breaking down. Drain, fill and flush with neXgen Premium, by answering the following question.
Q) How many different neXgen versions are available?
FIREMASTER 3 TORCH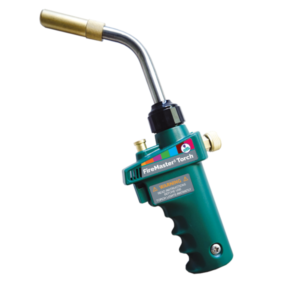 Firemaster 3 is a premium quality torch which brazes, solders and heats, offering an incredible three year warranty! This installers' favourite has a CGA600 inlet connection suitable for Propane and Map style gases and a Piezo ignition system. The torch produces an adjustable, high-intensity swirl flame and is fitted with a control valve for the perfect temperature. Its 360˚ swivel tip and comfortable handle design make it ideal those hard-to-reach positions, together with a quick locking tip connection, lockable trigger and replaceable tip.
Q) How long is the warranty on Mark Vitow's Firemaster 3 torch?
AIR-LOK TOILET SEATS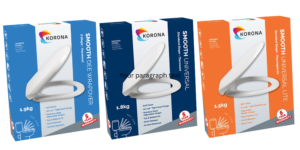 Korona is a comprehensive range of premium quality, affordable toilet seats, with a five year warranty. The clever Air-Lok system expands as fitted, gripping the toilet pan to create a rigid fixing that secures the seat in place and puts a stop to seat twisting and movement once and for all – no more seat movement. This prize bundle includes three of Mark Vitow's most popular soft-close models including the stylish SMOOTH DEE Wrapover.
Q) How long is the warranty on Mark Vitow's KORONA Air-Lok toilet seats?
HEAD OVER TO hpmmag.com/festive-giveaway-22 TO SUBMIT YOUR ANSWERS BEFORE OUR 31 JANUARY DEADLINE.
Terms and conditions: The HPM Festive Giveaway competition will close on 31st January 2023. To participate, submit your answers at hpmmag.com/festive-giveaway-22. The competition is open to registered UK readers of HPM over 18 years of age, except employees of the contributing companies and Mark Allen Group. No purchase necessary. Only one entry per reader for the chance to win a maximum of one prize each. The editor will select the winners at random. The editor's decision will be final and no correspondence will be entered into. Prizes subject to availability.