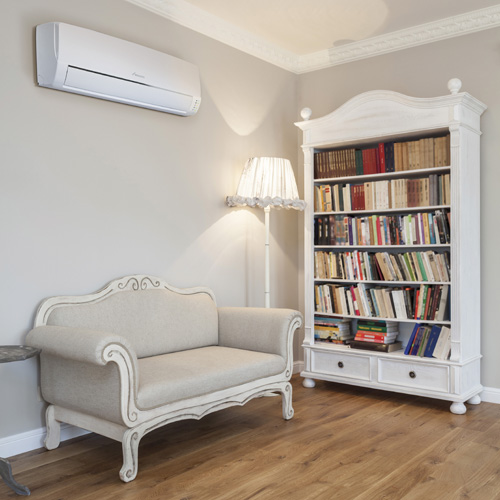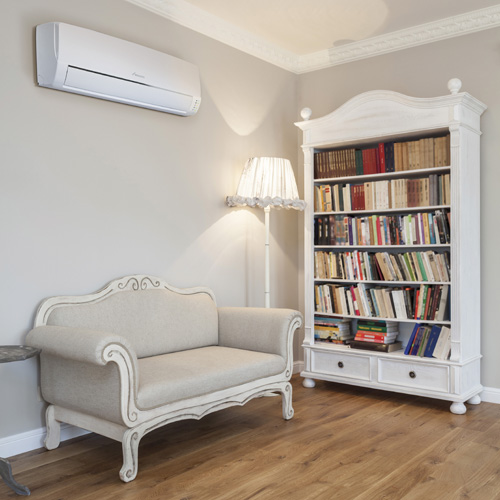 "It's difficult (and probably always will be) to convince homeowners to replace their small, compact boilers with a large, and expensive, heat pump," says Martyn Bridges, director of technical communication and product Management at Worcester Bosch.
It's not all bad news, though. Air-to-water and ground-source heat pumps may have seen their sales reduce year-on-year, but air-to-air is managing to buck that trend.
"Compared to other models of heat pumps, air-to-air is relatively inexpensive, easy-to-use and install," Martyn explains. "It also functions as a heater and an air conditioner, making it a popular choice for open-plan spaces such as apartments, offices, factory units and churches."
Installing a heat pump: what you need to know
Before you go specifying a heat pump to every new customer, there are a few things to consider.
"Boiler replacements usually have an element of distress about them, which means they're rarely ever planned," Martyn says. "With ageing non-condensing boilers, a replacement is generally more cost-effective than a repair. It's here that the conversation to install a heat pump is usually introduced."

Whether this is the right course of action, however, depends largely on the property.
Martyn explains: "In older homes, there is every chance that the building will not be insulated well enough to make a heat pump installation worthwhile."
A few alternatives
So, you find out a customer's home is not insulated enough – what then?
"As we've mentioned, the idea to install a heat pump usually evolves from an emergency situation, which means time is rarely on the side of the installer," Martyn says.
"A good compromise, therefore, is to try a heat pump/boiler hybrid system, which is adept at moderating energy at warmer times of the year, while providing heat and comfort during the colder months."
There are mainly two types of Hybrid. The first links into the heating and hot water system and may be used heat the radiators during the spring and autumn, instead of the boiler. The other is a boiler/air-to-air hybrid that keeps the systems separate.
A key consideration for the air-to-air hybrid is property layout.
"The more walls or obstructions that the air flow needs to pass, the more air flow is lost," Martyn says. "This makes it more suitable for open space properties, such as apartments, offices, or even your GP's waiting room."
Should heat pumps be your priority, then?
"Yes and no," Martyn says. "They won't be suitable for every property, but they are a highly sustainable, energy efficient supplement to traditional boilers in properties with open plan spaces. If your customer can harness the full benefits of a heat pump, then they most certainly should."
Heat pump types
Air-to-air heat pump
A handy two-in-one, the Greensource air-to-air pump cools in summer just as effectively as it warms in winter. It's also got an in-built purification system for any customers with allergies.
Air to-water heat pump
Much like a ground-source heat pump, this product uses the outside air to warm the primary water in a heating system to a maximum of around 45°C (for the most efficient operation).
Ground-source heat pump
Economical, low carbon and easy-to-install: ground-source heat pumps are suitable for a variety of property types and extract their energy from under the ground. Generally, these are stand-alone and not a supplement for a boiler. They will heat the heating and hot water system in high efficiency properties.
Need to know more? Visit the Worcester Bosch website or speak to your local Worcester Bosch representative.