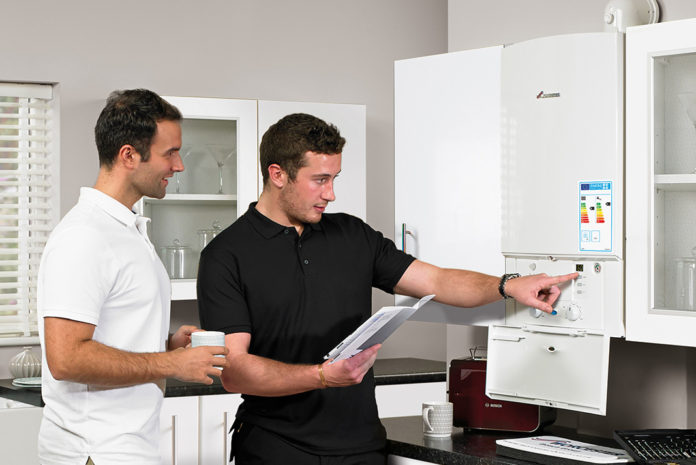 Worcester Bosch's director of technical communication and product management, Martyn Bridges, talks through four key things installers should know about the ErP Directive at the moment, given key changes that have taken place this year:
1. Boiler Plus
While Boiler Plus came to fruition back in April 2018, it shouldn't be forgotten about. The policy specifies that any replacement gas-fired combi boiler in England must be a minimum efficiency of 92%. The boiler must also be installed with a time and temperature control along with either a smart, load or weather compensation control or a Flue Gas Heat Recovery Unit.
Despite the majority of new boilers exceeding this efficiency level, and most installers choosing to fit suitable controls already, Boiler Plus has made it a legal requirement to follow.
2. Lowering NOx emissions
In September 2018, the ErP Directive specified maximum NOx emission levels of 120mg/kWh for oil boilers and 56 mg/kWh for gas and LPG boilers.
While the onus is on manufacturers to ensure that new boilers are more efficient and produce less emissions, it's also a great opportunity to explain the environmental benefits and cost savings to be had by switching to various compliant boiler models.
3. Low energy circulating pumps
When the ErP Directive was first introduced in 2015, it stated that all combi and system boilers must be fitted with low energy circulating pumps.
From 2020, if the original pump fails in a boiler pre-dating 2015, the replacement circulating pump must also be low energy – even if the boiler was not manufactured with one.
With the new low-energy circulating pumps being larger than the traditional pumps, this means that the safety and performance of the boiler could be compromised. With restrictions around compatibility testing, it could even lead to the boiler having to be replaced entirely, leaving homeowners out of pocket.
To try and prevent pump issues for the homeowner, the system must be kept free from contaminants with services like system flushing and water treatment.
4. Changes to labelling
The European Commission is considering recasting the labelling of energy related products, meaning that a current band A boiler could potentially be re-labelled as a band D.
For your customers, a change like this could be confusing, so it will be important for you to help them to get to grips with it.
As is the case now, when a boiler is dispatched, it comes with a label suggesting its efficiency. If you add certain system controls to it though, such as the Bosch EasyControl, you will get an uplift in efficiency and will need to create a system package label of what the installed system efficiency is.
Most manufacturers will have a label generator on their website to help you to create a system label.