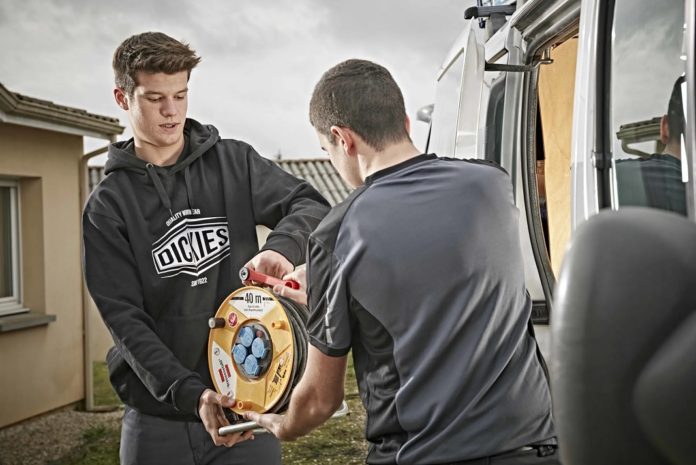 World Youth Skills Day (15 July) is an annual day celebrated by the United Nations to encourage youth development and education, allowing students to prepare themselves for future careers and endeavors. In light of this, the trade lifestyle experts at Dickies Workwear have created a guide that highlights the steps students and young people should follow before starting a role in the trades sector. The guide also provides business owners with the benefits of providing training and youth programmes and illustrates how useful such a program can be not only to the young people supported but also, in the long run, to the businesses themselves.
SIX TIPS FOR STUDENTS INTERESTED IN THE TRADES
Decide on your industry within the trades: From salaries to personal interest and career development opportunities, there's lots of information online and your school's career advisor may also be able to help. Research and understanding of the industry you're interested in also helps show passion and enthusiasm.
Work on your fitness: With many jobs in the trades industry being quite physically demanding, making sure you have the physical strength and good health necessary to work the long hours required is essential for your safety.
Understand health and safety measures: Whether you're looking at becoming a plumber, bricklayer or gardener, it's important to educate yourself on the rules and regulations for your particular trade. This can range from equipment and PPE to legal safety measures that are taken to protect you and helps show interest to future employers.
Develop further work experience: Whether it's a Saturday or Summer job, it can be a nice introduction and let you gain some basic experience – something that's looked at highly from a prospective employer and separates you from other candidates.
Speak to a qualified professional: Getting first hand insight from a professional within the industry is a great way to clearly understand the expectations of the job, as well as getting a sneak peak into the day to day of the career.
Utilise school subjects as much as you can: Working hard on communication skills, technical skills, basic numeracy and literacy skills can greatly help you in any avenue of the trades you decide to move into. Having the skills and knowledge in these skill sets really can help make your future career easier.
SIX BENEFITS OF EMPLOYING YOUNG PEOPLE
There are many reasons why businesses should think about employing students within their organisations. Doing so does not only help develop future tradespeople within the industry but also can have a positive impact on their business.
In-house training allows for high standards from the get-go: Providing in-house training programmes for students can teach the same standards you encourage within your business while also lowering the chance of them bringing in bad habits or lower-quality methods that they've learnt elsewhere.
Young people can bring fresh new ideas and inspiration: Hiring new students and people just out of education can bring a fresh approach and their hard-working attitude can rub off on others. You may also learn something from them, too.
Providing experience can build future loyalty: Providing people with their first opportunity in their chosen profession can also help build loyalty and most of the time, people will seek employment from companies they feel comfortable with. This can also reduce recruitment costs in the long run.
Beginners can help with smaller tasks and jobs: It's common that more experienced members of the team neglect smaller, simpler tasks for bigger ones due to lack of time. Hiring a beginner means they can focus on these tasks and other members of the team can concentrate on larger, more complex areas.
You may be able to apply for government funding: The recent announcement of the traineeship scheme sees the government giving £1,000 to employers who offer work experience to 18-24 year olds. Additionally, if you're in England and thinking about hiring an apprentice, you may be able to get government funding to cover the costs of training and assessment.
Student programs can develop your business' Corporate Social Responsibility – Being involved with initiatives can help gain new clients, as well as attract future employees. It shows investors and clients that you're open to supporting inspiring tradespeople and furthering the industry.
ATTRACTING FUTURE TALENT
Mark Tapper from Dickies Workwear added: "It can be difficult sometimes for people to realise the true potential and opportunities within the trades industry, especially during these uncertain times. Having a set plan and guidance is key when thinking of your next step into the industry, as it provides a solid foundation as well as helps setting candidates apart from the rest with the knowledge and experience they gain. 
"At Dickies Workwear, we really strive to encourage students and business owners alike to develop skills within the industry and attract future talent. Student programmes are great ways for the youth to get a leg up and build their skill set and experience in the working world. Business' can also utilise these opportunities to develop, grow and invest in a strong workforce for the future."