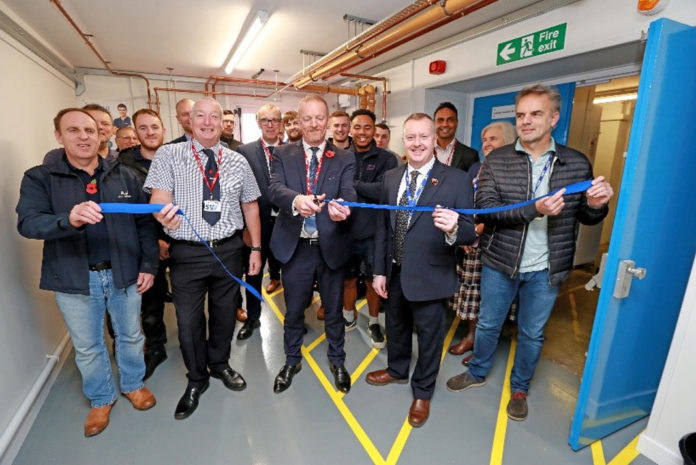 This purpose-built facility includes five fully fitted assessment bays and was created from scratch with generous support from partner Worcester Bosch and additional sponsors Anton Industrial, Harvey Water Softeners and S&S Northern.
End Point Assessments will be delivered at the centre by City & Guilds, and at the recent launch event the ribbon was cut by City & Guilds Executive Director David Phillips. He was impressed by what he saw, and said: "One of the stand out things about Steve Willis Training is your reputation for quality and to see you invest in End Point Assessments in this way is fantastic."
Other guests at the launch included Worcester Bosch National Training Manager Euan Sutherland, Anton Sales Director Damian Cairns, and Jerry Whiteley, Technical Director for the Chartered Institute of Plumbing and Heating Engineering, along with many of the skilled tradespeople who worked on the project.
Managing Director Steve Willis explained: "It's been the mission of Steve Willis Training since I started 19 years ago to invest profits back into the business. I want to make sure our learners get the best possible experience.
"We had nothing like this in my day, it was all oily rags and dirty workshops. This wonderful new facility will benefit all our apprentices across Sussex and Hampshire, and it will be a pleasure to see them come in and mess it up – but not too much."
In future Steve Willis Training hope to extend use of the facilities to apprentices studying elsewhere, helping to improve the standard of apprenticeship training and assessment across the South of England.