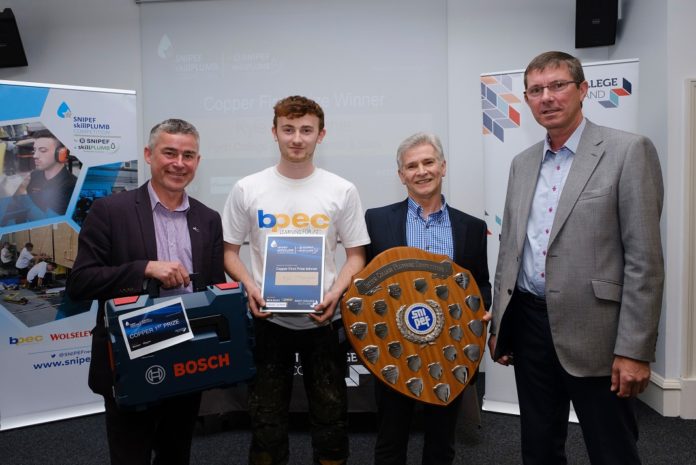 Apprentices from Perth College UHI took home the top awards at the SNIPEF SkillPLUMB competition on Friday 21 June.
First place in both the lead and copper competitions were won by third-year apprentices attending Perth College UHI. Shaun McTavish, employed by McDonald & Buist, took home the first prize for lead, while the top prize in the copper competition went to Kyle McGeoghie, employed by William Combe & Son.
The lead competition saw second place go to Iain Winnard who attends Glasgow Clyde College and works for Blair Plumbing & Heating Solutions Daniel McNeill of Forth Valley College and employed by Matheson Plumbing Co took home third place.
Second place in the copper competition was awarded to Samuel Henderson of Tullos Training Centre, employed by Derek Scott Plumbing & Heating. Third place was won by Connor Cruden of Moray College, who works for Neil Murray Housebuilders.
The prizes were presented by Alan Brown, MP for Kilmarnock and Loudoun, along with SNIPEF Past President and Copper Judge Gordon Matheson.
A total of 31 apprentices from colleges and training centres across Scotland gathered at West College Scotland's Paisley campus to showcase their skills and knowledge in the competition. The competitors had four hours to complete either a copper pipework exercise or a sheet lead exercise.
As the Scotland regional heat for SkillPLUMB, the highest scoring competitors in the copper competition may go on to represent Scotland in the UK final at WorldSkillsUK LIVE at the NEC Birmingham in November. Only the top eight competitors from the six UK Heats are invited to the final.