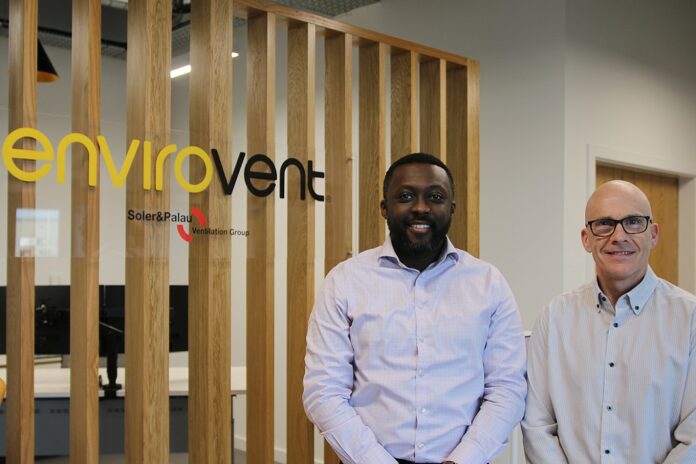 EnviroVent has appointed two new heads of specification. Andrew Firth has been appointed head of specification – North, and David Frimpong in the same role for the South.
The company has said that they are both to collectively lead a team of seven key account managers and a desk-based support team, providing technical and specification advice for developers and building services clients across the UK. The specification team will be backed up by EnviroVent's integrated design and estimation specialists and engineers.
Andrew has spent the last three years as a new build specification manager in the ventilation sector. He has worked within the construction industry for over 40 years providing product specification and system design advice and expertise for a number of leading manufacturers in plumbing, heating and pipeline distribution.
David Frimpong whose previous role was business development manager for the Genuit Group, has over 10 years' experience in working with developers and architects in the HVAC sector.
Andrew and David will focus on developing business opportunities in the new build residential market particularly in system sales, focusing on EnviroVent's  Mechanical Ventilation Heat Recovery (MVHR), Mechanical Extract Ventilation (MEV) and Decentralised MEV (DMEV) systems.
Andrew said: "In our new roles, we are aiming to increase market share with consultants, developers, M&E contractors and sub-contractors. We will also be working closely with existing customers to offer a solution and service that exceeds market expectations."
David added: "The latest updates to building regulations mean a more detailed and technical approach is required to specifying the correct ventilation equipment. Our role is to work with clients to specify the right ventilation solution for their residential projects, minimising margin for error and maximising efficiency.
"Building on EnviroVent's reputation for excellence in technical knowledge and services, we are providing a vital service to new build customers who are facing challenges in meeting industry compliance. This includes helping them meet the latest regulations and working towards the Future Homes Standard."