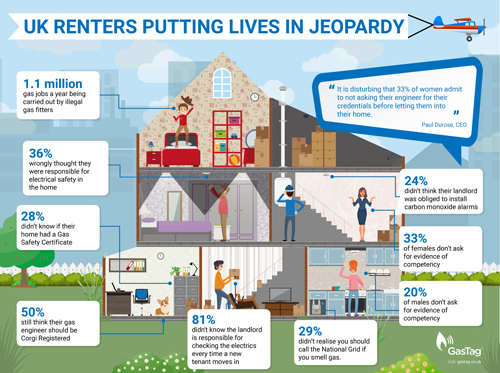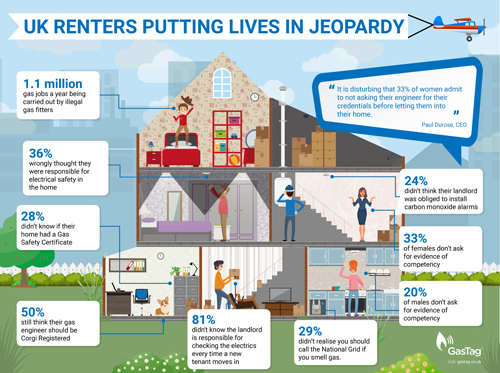 A third of women allow gas engineers into their home without asking for their credentials, new research has revealed.
Some 33% of females did not ask for evidence of competency, compared to just 20% of men.
The findings came in a survey of renters which highlighted a serious lack of basic safety knowledge.
Almost ten million people rent their homes – over five million privately and almost the same number in social housing.
Among the survey's other key findings were:
50% still think their gas engineer should be Corgi registered – it changed to Gas Safe Register almost ten years ago;
28% either didn't have or did not know if their rented home had a Gas Safety Certificate – the legal requirement;
Almost a quarter (24%) did not think their landlord was obliged to install a carbon monoxide (CO) alarm if there was a solid fuel burning source like wood or coal;
81% did not know that a landlord is responsible for checking all electrical appliances every time a new tenant moves into a property;
36% wrongly thought they were – rather than the landlord – responsible for electrical safety in the rented home;
Almost a third (29%) did not realise you should call the National Grid helpline if they smell gas in or around the home.
Paul Durose, CEO of Gas Tag, which commissioned the survey, said: "It is disturbing that 33% of women admit to not asking their engineer for their credentials before letting them into their home.
"This is despite 1.1 million gas jobs a year being carried out by illegal gas fitters who are not qualified.
"Tradesmen should insist that you check their credentials but, if they don't, then the onus is on householders to not fall into the trap of either being too scared to ask or too trusting to check."