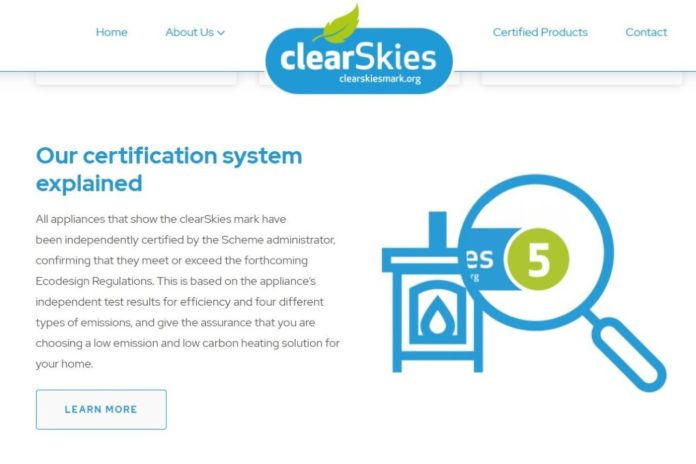 ClearSkies Mark has announced the launch of clearSkies, a new independent emissions and energy performance certification mark for solid fuel stoves and fireplaces.
The scheme has been designed to demonstrate appliance manufacturers' commitment to improving air quality by developing low carbon, low emissions and high efficiency domestic heating solutions.
All appliances certified under the new clearSkies label meet or exceed the efficiency and emissions requirements for forthcoming Ecodesign 2022 regulations, and all Level 3 or above clearSkies certified appliances are also Defra Exempt for use in smoke control zones, a statement said.
A total of 222 appliances from 16 different brands can be found on the clearSkies product listing, with the number set to rise to over 300 in the coming weeks. Independent tests show that a clearSkies appliance produces up to 90% less emissions than an open fire and up to 80% than a stove that is 10 or more years old.
The scheme has been initiated by the industry through the Stove Industry Alliance.
Chair of clearSkies, Morley Sage, said: "clearSkies has been over three years in development and is the first objective and independent emissions and energy performance certification scheme of its kind. This ground-breaking initiative is clear evidence of the commitment of the stove and fireplace industry to ensure that its appliances are as clean and efficient as possible. This will mean lower emissions and improved air quality, whilst providing low carbon and heart-warming heating solutions that families can be proud of."
Phil Cleaver, director of the Federation of British Chimney Sweeps, added: "The Federation of British Chimney Sweeps welcomes the launch of clearSkies, which should help consumers easily identify those appliances with the lowest emissions and best efficiency. These appliances will be beneficial for the environment and also cost less to run – your local Association and FBCS chimney sweep can advise."