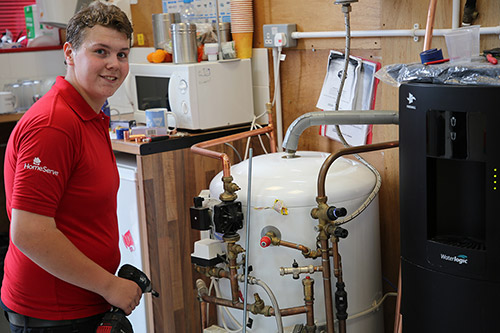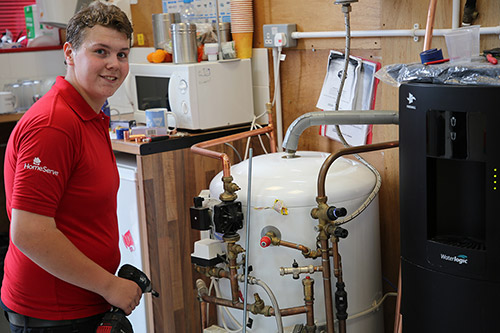 One of the UK's leading home assistance providers, HomeServe, is recruiting 30 new apprentices over the next six weeks – ten new gas engineers and 20 new plumbing and drainage engineers.
The Walsall-based company is embarking on its biggest ever apprentice recruitment drive to support an increasing number of customers based across the UK.
The new apprentices are being recruited to support customer demand in a range of regions across the UK, including London and the South East, the Midlands, Yorkshire, and areas of the North West and North East.
HomeServe is seeking 20 new apprentices to become future plumbing, drainage and water supply pipe engineers. The two-year course involves class-based training through Walsall College as well as 'on the job' experience with an experienced HomeServe engineer.
A further ten apprentices will join HomeServe's Gas Development Academy, which launched in January 2017. Fifteen engineers are already on the Academy programme and are expected to graduate later this year and receive their new HomeServe vans.
"We're really proud of the unique culture we've created at HomeServe. We put our people first and focus on keeping life moving for our customers", said HomeServe membership CEO Greg Reed.
"This means that when we recruit, we always seek people from a mix of backgrounds and experience that will not only enhance but also innovate our culture and share our customer values. Our apprenticeship programme is a key part of that and I am looking forward to meeting our new recruits when they join."
The new apprentice intakes are planned for August this year and candidates are invited to apply at: www.findapprenticeship.service.gov.uk/apprenticeshipsearch (and search for HomeServe) before Monday July 31, 2017, to be considered within the initial assessment programme.
A similar recruitment drive held in 2015 saw more than 350 people apply for 16 new apprentice positions at HomeServe.