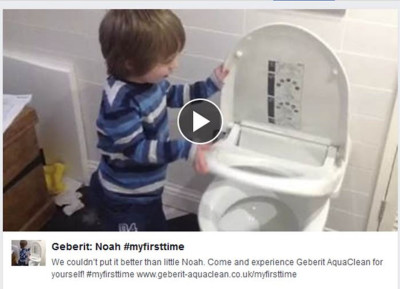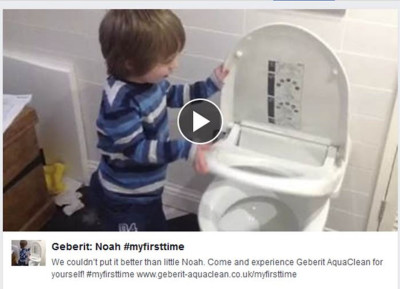 Getting people to talk about their bathroom habits and issues of personal hygiene can be a tricky business, as anyone that sells toilets for a living will contend, but Geberit has come up with a marketing campaign that has got everyone talking.
In a bid to raise awareness of the many health and wellbeing benefits that its range of shower toilets offers, Geberit posted a series of humorous short videos featuring three-year-old Noah on social media.
The videos capture his reaction to using an AquaClean shower toilet for the first time and were posted on sites including Facebook, Twitter and YouTube and quickly went viral. Clips showing Noah explaining how washing with water felt in a way only a three-year-old can were instant hits, with over 330,000 views.
The social media activity was part of a fully integrated marketing campaign, that included radio advertising and a road show, which saw Geberit tour the UK in a specially designed truck complete with working Geberit AquaClean shower toilets. Members of the public going on board the truck had the opportunity to experience the feeling of washing with water for themselves and describe their thoughts on their own social media pages using #myfirsttime.
To view the Geberit #myfirsttime videos visit: www.facebook.com/Geberit
For more details of the Geberit AquaClean range of shower toilets visit: www.geberit.co.uk.