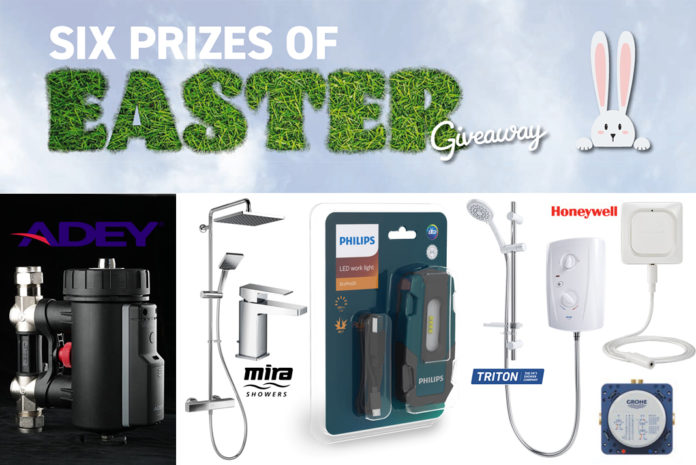 HPM's Easter 2019 competition will run throughout April, offering a host of heating and plumbing giveaways. To have a chance of winning, simply count how many Easter bunnies appear in this month's magazine and submit your answer here.
THE PRIZES
ADEY MagnaClean Professional3 Sense
ADEY has teamed up with HPM to give installers the chance to win the industry's first and only Wi-Fi connected predictive magnetic filter – the MagnaClean Professional3 Sense.
The development of ADEY's new filter is described as the biggest innovation in magnetic filtration and heating system care since the company invented the first MagnaClean in 2003. It not only provides high performance system protection, but also predicts potential system problems and offers connected preventative maintenance.
Using ADEY's unique Sense technology, the filter detects the level of magnetite collected, preventing ongoing system damage by alerting installers so problems can be treated before it's too late. Magnetite capture is easily monitored both in situ using LED indicators incorporated on the canister, or remotely via regularly scheduled or real-time updates sent to the ADEY ProClub App.
Mira Honesty ERD with complementary monobloc tap
Enter the HPM Easter competition to win your Mira Honesty ERD with complementary monobloc tap.
Pure Cubist design meets luxurious showering performance, with the stunning Mira Honesty ERD mixer shower – the perfect choice for your contemporary bathroom.
Combine it with a complementary Mira Honesty tap for the ultimate contemporary look.
One of the newest additions to the range of mixer showers from the UK's leading manufacturer of mixer, power and digital showers, the Mira Honesty ERD combines hard angles with soft corners for a distinctive, modern look. This is coupled with a powerful performance, thanks to Mira Magni-floTM which delivers up to 3 times more flow, even at low pressure.
Philips EcoPro LED work lights
Lumileds is delighted offer HPM readers the chance to win one of six Philips EcoPro range of LED work lights. Equipped with high-quality LEDs and hands-free features, the range provides the powerful bright light.
Plumbers and heating installers solve a variety of complex problems every day. But sometimes the biggest challenge isn't diagnosing the fault, it's having the space, light and dexterity to put it right.
The Philips EcoPro50 provides a portable and powerful rechargeable projector lamp, which lights up large dark areas when working in tight spaces. Tested in 3-meter drop tests, the pocket-sized work lamp is also proven to survive a drop from height and is also resistant to water.
Triton T80 Pro-Fit electric shower
Enter now to be in with the chance of winning the market leading Triton T80 Pro-Fit electric shower, designed to meet the growing demand for retrofit shower solutions.
Boasting eight water and eight electric entry points, ease of installation is at the heart of the T80 Pro-Fit, making it simple to replace almost any electric shower, whatever the brand or model. For example, the product includes Triton's very own Swing-Fit terminal block and a dual water inlet, allowing for left or right pipe and cable connections.
The model also features Triton's Dura-Flow heater which helps to reduce the build-up of limescale by up to 80%, maximising flow and extending the life of the shower.
Resideo W1 Wi-Fi Water Leak and Freeze Detectors
This Easter, Resideo is giving four lucky HPM readers the chance to win one of its W1 Wi-Fi Water Leak and Freeze Detectors with extension cables.
Providing installers with a convenient and easy-to-install solution to monitor leaks, humidity levels and damage from low temperatures around the home, the W1 Wi-Fi Water Leak and Freeze Detector offers householders complete peace of mind and protection against water damage.
The W1 Wi-Fi Water Leak and Freeze Detector detects leaks both at the device and via the 1.2m cable. Additional cables can be added to cover an area as large as 150m, whilst the device itself can also monitor indoor temperatures and humidity levels.
Powered by battery, the device does not have to be connected to the main power supply and can be placed anywhere in the home.
GROHE Rapido Smartbox rough-in kit
Three lucky readers of HPM could each win a Rapido Smartbox rough-in kit, a universal solution that is compatible with more than 170 GROHE shower trims, meaning you can offer your customers a stylish concealed shower system that is completely personalised to their individual style.
Concealed shower systems are increasingly being specified by customers and it is likely that they will become the preferred shower system in the modern home over the next few years.
With the chance to get your hands on this unique piece of kit, you'll also experience the simplified installation that comes with the Rapido Smartbox including its compatibility to work in walls as narrow as 75mm, multiple fixing points allowing for faster installation onto a range of materials and bottom inlets that eliminate the need for 90 degree fittings.
For full terms and conditions visit the competition entry page here.